Isabella "Izzie" Reed, age 5, of Murphy, NC passed away Tuesday, August 30, 2011 in Charlotte, NC.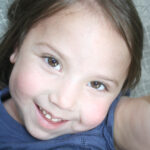 She was born in Buncombe County, NC. Izzie loved her brothers, going to church and Vacation Bible School. She enjoyed singing and listening to music.
     She was preceded in death by her sister, Maggie Reed.
     She is survived by her parents, Norman and Tammy Harvey Reed; three brothers, Joseph Reed, Jake Reed and Thomas Reed, all of the home; one sister, Joshie Craig of Bryson City, NC; grandparents, J.D. and Wyvette of MS, Norman L. Reed, Sr. of Cherokee, and Patricia and Earl (Skip) Brock of MO. 
     Funeral Services will be Friday, September 2, 2011 at 10:00 am at Tomotla Baptist Church in Marble, NC.  Rev. Harold Stiles will officiate. Burial will be in the Owl and Reed Family Cemetery. Pallbearers will be John Harvey, Perry Owl, Gabe Reed and Ben Reed.
     Townson Rose Funeral Home was in charge of arrangements.