Dr. Orlando Nieves has been selected as the new medical director of Emergency Medicine at Cherokee Indian Hospital.  Dr. Nieves graduated from medical school at the Autonomous University of Guadalajara, after which he completed one year of General Surgery Residency in Puerto Rico and a three year Residency in Family Medicine at the University of Massachusetts, where he also served as Chief Resident.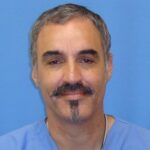 Dr. Nieves has previously served in the role as the Emergency Department medical director and coordinator for Medical Student/Resident Education at Cherokee Indian Hospital.  He also served with distinction as a staff physician in the Emergency Department at the Charles George VA Medical Center in Asheville, and he served previously as clinical director at the PHS Indian Health Center in Neah Bay, WA.  He has been on staff at Cherokee Indian Hospital for the past nine years, primarily working in the Emergency Department and on inpatient. 
     "Cherokee Indian Hospital would also like to thank Dr. Gray Erlacher for his service as Director for the past eight months, and specifically for his dedication during implementation of the EHR in ER, for the development of a web-based physician scheduling tool, and for his work on improvement of stroke care," CIH officials related in a statement. 
– Cherokee Indian Hospital