ONE FEATHER STAFF REPORT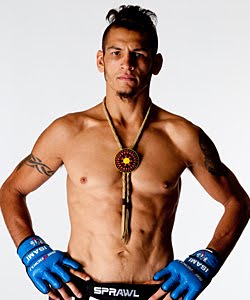 Dan "The Handler" Hornbuckle (22-3), an EBCI tribal member, will be in action this weekend as he enters the Bellator season 3 welterweight mixed martial arts tournament.  He is set to fight Brent Weedman (17-5-1) in the quarterfinals on Saturday, March 5.  The fight will be televised live on MTV2. 
     Other welterweight quarterfinal fights on the card include:  Jim Wallhead (20-5) v. Rick Hawn (9-0), Anthony Lapsely (19-4) v. Jay Hieron (19-4), and Chris Lozano (6-0) v. former welterweight champion Lyman Good (10-1).   
     Info:  www.bellator.com