ONE FEATHER STAFF REPORT
                Three members of the Cherokee Braves varsity wrestling team are on their way to the state tournament this weekend in at the Greensboro Coliseum in Greensboro.  Will Bird (25-2) stamped his ticket to state by taking first place in the 189lb. division at the North Carolina 1A-West Regional Tournament held this past weekend in Cherokee.  Colby Yanez (22-6) advanced with a third place finish in the 135lb. division and Tavi Rivera (39-6) advanced with a third place finish in the 160lb. division.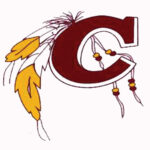 Bird, the number two seed in the 189lb. division, got a first-round bye and then pinned Jared Turbyfill (Swain) at the 1:57 mark to advance to the semifinals where he pinned Matthew Parce (Hendersonville) at the 5:29 mark.  Bird won a major decision (20-8) over Geno Guilyard (Bishop McGuinness), the number one seed, to win the championship. 
                In a battle of EBCI tribal members, Christian Crowe (Swain) pinned Sam Wahnetah (Andrews) at the 2:57 mark to win the 285lb. division.  Both advance to the state tournament. 
                With an overall team score of 70, Cherokee placed 9th out of a total of 22 teams in the field.  West Wilkes took the team championship with 207 points followed by Bishop McGuinness with 167 and Mitchell in third place with 128. 
With 97 points and a fourth place finish, Robbinsville was the highest ranking Smoky Mountain Conference team.  They were directly followed by Murphy with 88 and Swain with 85.5. 
Regional Champions included:
103lb. – Alexander Preudhomme (Bishop McGuinnes)
112lb. – Devin Fussell (West Wilkes)
119lb. – Jorge Lima (West Wilkes)
125lb. – James J.J. LaPlante (West Wilkes)
130lb. – Sejiro Littleton (Mitchell)
135lb. – Brock Yackey (Avery County)
140lb. – Chandler Gooch (Murphy)
145lb. – Nick Sgroi (Bishop McGuinness)
152lb. – Mikey Wade (West Wilkes)
160lb. – Jesse Beaver (Murphy)
171lb. – Luke Hampton (Alleghany)
189lb. – Will Bird (Cherokee)
215lb. – Greg Upchurch (East Surry)
285lb. – Christian Crowe (Swain)
Other Cherokee results are as follows:
125lb. – Levi Swearengin (34-11) went 2-2 on the tournament
–          Won a major decision (14-6) over Erik Rubino (Andrews)
–          Lost a decision (12-10) to Logan Richardson (North Wilkes)
–          Lost a decision (6-4) to Derrick Woodie (East Wilkes)
–          Pinned Keeton Poole (Thomas Jefferson) at the 2:32 mark
135lb. – Colby Yanez (22-6) went 3-1 on the tournament
–          Won a major decision (11-8) over Joey Cable (Robbinsville)
–          Won a major decision (11-0) over Seth Parker (Rosman)
–          Lost a decision (9-3) to Brock Yackey (Avery)
–          Won a decision (14-8) over Bryan Wallace (Hendersonville)
–          Won a major decision (14-5) over Aaron Walker (North Wilkes)
140lb. – Wesley Long (15-17) went 0-2 on the tournament
–          Pinned by Daniel Bomar (Mitchell) at the 3:45 mark
–          Pinned by Peter Jacoby (Bishop McGuinnes) at the 3:32 mark
160lb. – Tavi Rivera (39-6) went 4-1 on the tournament
–          Pinned Mark Anderson (Hayesville) at the 1:30 mark
–          Won a major decision (9-1) over Jacob Hundley (Mitchell)
–          Lost a decision (4-3) to Patrick Oshea (Bishop McGuinness)
–          Won a decision (7-0) over James Diaz (Rosman)
–          Won a decision in OT (2-0) over Shiloh Adkins (West Wilkes)
171lb. – John Roper (36-6) went 2-2 on the tournament
–          Won a decision (4-1) over Alexander Valitutto (Bishop McGuinness)
–          Pinned by Jacob Fregia (East Surry) – no time given
–          Pinned Terry Henderson (Rosman) at the 4:31 mark
–          Pinned by Joe Anderson (West Wilkes) at the 1:34 mark
285lb. – Michael Montelongo (21-9) went 3-2 on the tournament
–          Won by forfeit over Jeb Bryant (North Stokes)
–          Pinned by Dillon Daniels (Robbinsville) at the :44 mark
–          Won a decision (5-4) over Hunter Robertson (Mitchell)
–          Pinned by Alex Craze (Murphy) at the 4:16 mark
–          Pinned Anthony Alvarado (West Wilkes) at the 2:42 mark