By SCOTT MCKIE B.P.
ONE FEATHER STAFF
                The Carson-Newman Eagles will have a Brave on their roster next season.  Jesse Blanton, who played quarterback and defensive back for Cherokee this past season, signed a letter of intent on Wednesday, Feb. 2 to play football at the school. 
                "It was great being able to sign with Carson-Newman as a walk-on and get the opportunity to play college football," said Blanton.  I've always wanted to do this since I was little so this is probably the best chance I'll have." 
He said he will most likely redshirt his freshman year to get to know the offense and defense better.  Blanton said he and the coaches are undecided about what role he'll play at Carson-Newman, but that could include quarterback or wide receiver. 
This year Blanton completed 31 of 80 passes for 491 yards, 7 TDs and 6 ints on the season.  He also rushed 125 times for 612 yards and 8 TDs.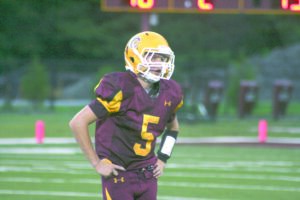 David Blanton, Jesse's father, commented, "I think it's really great.  I was really impressed with the school.  We went up for football recruitment day as he was invited up for that.  We just got a really great feeling and like the philosophy of the coaches and the philosophy of the school." 
He added, "I'm proud of him.  I think it's great." 
Carson-Newman, in Jefferson City, Tenn., is a NCAA Division II school and plays in the South Atlantic Conference.  Last year, their football team went 5-2 in the conference for a second place finish and 7-4 overall. 
"It's definitely a blessing," said Cherokee head coach Craig Barker.  "Jesse had a great year and he's a great kid and its great publicity for our program and for the future Braves coming up.  It'll give them something to shoot for.  And, I'm sure he's going to do great things for Carson-Newman and we're excited for Jesse."