HAYESVILLE – There will be a formal opening of Hayesville's Cherokee Homestead Exhibit on Saturday, Oct. 23 from 11am – 1pm.  The exhibit is located just off the historic courthouse square adjacent to the Old Jail Museum, in Hayesville. The exhibit is a celebration of the rich Cherokee heritage and culture in Clay County and the region, providing a destination point and a gateway, to encourage travelers and students to seek out other Cherokee heritage sites in the region. This event is open to the public. Adults and children from Cherokee are welcome and encouraged to attend.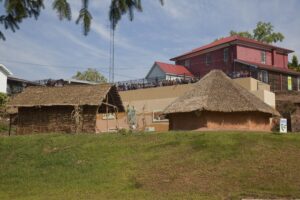 Walker Calhoun, a 92-year-old World War II veteran and respected traditionalist of the EBCI, will give the invocation in the Cherokee language. He is the founder of the Raven Rock Dancers, a troupe comprised of his children, grandchildren, great grandchildren and others. They will perform traditional dances and demonstrate Cherokee blow guns and darts.
 
Other Cherokee presenters will include Lynne Harlan; Cherokee County – Snowbird Rep. Diamond Brown Jr., educator and storyteller; Kevin Welch, director of the Center for Cherokee Plants; and Russ Townsend, Tribal archaeologist and director of the Tribal Council Historic Office.
Additional featured presenters will include Dr. Jane Eastman, Dept of Anthropology and Sociology, Western Carolina University and Judi Jetson, Small Towns Coordinator for HandMade in America.
The Cherokee Homestead Exhibit is a joint effort of Clay County Communities Revitalization Association (CCCRA) and the Clay County Historical and Arts Council.  However, the partnerships involved in creating this exhibit go far beyond the boundaries of Clay County to include the EBCI, the NC Rural Center, The Conservation Fund, Clay County Board of Travel and Tourism, the Blue Ridge National Heritage Area, the N.C. Arts Council, HandMade in America, Walmart, and The Cherokee Preservation Foundation.
 
Other consultants and providers instrumental in making this project possible include, but are not limited to, Davy Arch (EBCI), Garfield Long (EBCI), Mary Jane Ferguson (EBCI) Tyler Howe, (Tribal Council Historic Office), Dr. David Moore, Warren Wilson College, Dr. Brett Riggs, UNC Chapel Hill, Scott Ashcraft, USFS, and Mark Butler, Reconstruction Archaeologist, Monks Corner, S.C.
The exhibit site has served as the location for EBCI presentations by Davy Arch, Diamond Brown, and Kevin Welch. On Tuesday of this week Diamond Brown made his second presentation to the Clay County 4th and 8th grades.
Over the past month it has provided outdoor class room experience to three area school systems, Hayesville (Clay County), Murphy (Cherokee County), and Hiawassee, Ga. (Towns County), through a curriculum developed by Sandy Nicolette (CCCRA) and the EBCI.
 
Following the dedication, lunch will be provided to those traveling in from Cherokee and beyond at the Spike Buck Mound pavilion in the Clay County Recreation Park, one quarter mile from the exhibit.

Source: Cherokee Homestead Exhibit