Bear Creek, Tha Tribe, and Cree Confederation hit the mark on
new live albums
REVIEWS By SCOTT MCKIE B.P.
ONE FEATHER STAFF
Three new releases by Canyon Records rock the pow wow arena, those long highways on the way to the dance, your computer, and anywhere else you can listen to them.  Bear Creek, Tha Tribe, and Cree Confederation are three of the top northern contemporary groups in the pow wow world today and they all deliver on new releases. 
Bear Creek XI: Pow Wow Songs Recorded Live at San Manuel
 Ojibwe group Bear Creek started 11 years ago at the White Earth pow wow in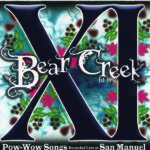 Minnesota and haven't looked back once.  If you only had one word to describe their singing it most definitely would be – power!  Their songs are sung powerfully, but aren't screamed…a difference that is not seen very often in contemporary northern singing. 
 
Their new album starts off with a song entitled "Rush for Roll Call".  Made by member Gabe Gaudet (Ojibwe/Cree), the song is sung in the Cree language and describes the group rushing to make the dance after running late…something I'm sure no one who pow wows has ever had to do…lol…
 
This album features a nice mix of word songs sung in either Cree or Ojibwe and vocable songs.  Tracks six ("N'gashi Nikamun") and eleven ("The Rooster") feature some nice vocable songs with the latter being one of those songs made up on the spot at a pow wow…just awesome! 
 
This is one of those albums that you'll want to put in your CD case as you're heading out the door for the next dance.  Oh, almost forgot, it contains a short DVD of the group singing two songs live which is pretty cool! 
Cree Confederation – Pakosiyimitan: Pow Wow Songs Recorded Live at Twenty-Nine Palms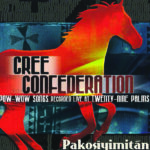 Having formed three years ago, Cree Confederation is a relatively new group to the pow wow world, but don't let that fool you…these guys can sing and have learned from the best.  This album is a mixture of vocable songs and songs sung in the Plains Cree language. 
I would technically categorize them as a northern contemporary group, but sometimes they take on an older sound when singing some of their vocable songs such as track five ("Smooth Jingle"). 
 
Track ten ("Watch Out"), composed by Jr. Waskewitch, is one of the more energetic songs on the album.  The song, translated in Cree, says, "Watch out when you're dancing.  Be alert, watch out." 
 
Like the Bear Creek album, this one also comes with a bonus DVD of live singing footage which I hope is a new trend that continues as it's pretty cool to see these groups in action…especially knowing that they're recording what you just heard on the CD. 
Tha Tribe – Woodland Grove: Pow Wow Songs Recorded Live in Keshena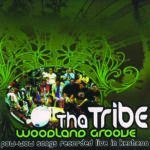 We've got a pretty good collection of CDs at the house from Tha Tribe, and they never disappoint…this album is certainly no different and is my favorite one from them to date.  It's smooth…it rocks…it's easy to dance to…it's just awesome!
 
A vocable song sort of opens the album on track two.  Made by Freeland Jishie, the song is smooth as ice. 
 
One of the more interesting songs is track five, an intertribal song by Joe Syrette that, according to the liner notes, was made on the spot at the 2009 Ann Arbor Pow Wow.  I love songs like that…ones that just come. 
 
My favorite song on the album is the last one, track 16 (Kitahna's Song).  Made by grass dance champion Darrell Goodwill for Kitahna Silas, the daughter of lead singer Wayne Silas, Jr., the song starts out strong and just gets strong…it's awesome! 
 
Well, in case you haven't been able to tell, I love this album.  I think you will too. 
Contact info:  canyon@canyonrecords.com, www.canyonrecords.com,
www.facebook.com/canyonrecords