COLUMN By RYAN LANZEN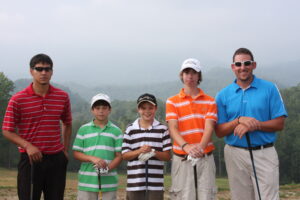 The Sequoyah National Junior Golf Camp season has come to a close and the first go around was a huge success!  The 6 weeks of Junior Camps were attended by 62 kids who all had a great time.  The clinics covered all aspects of the golf game including full swing, chipping, pitching, bunker play and putting.  In addition to golf instruction we also covered etiquette, rules, health and life skills such as honesty and integrity.  Each camp cost $60 per player and included 12 hours of instruction, lunch each day and prizes for all of the campers.
The Sequoyah National staff as well as all of the campers had a great time working together and we are looking forward to a great Summer of Junior Golf in 2011!  We are already in the planning stages for next year and we are hoping to expand the camps to accommodate more kids and more ability levels.  We will continue with our camps that we hosted this summer as well as introducing an advanced player camp that will ideally include time on the golf course teaching course strategy and possibly a tournament at the end of the camp.  More information will be released about the new camps as the details are worked out.
We would like to thank all the participants from the 2010 Sequoyah National Junior Camps and we look forward to seeing you again next summer as well as the many new faces we hope to see next year!
Photo gallery of camp:
https://www.theonefeather.com/photo-galleries-2/?album=70&gallery=78
Ryan is the head golf professional at Sequoyah National Golf Club.