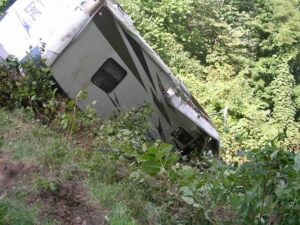 Around 12 p.m. on Monday, Aug. 23 a one vehicle accident, involving a large motor home with seven occupants, occurred in Great Smoky Mountains National Park, in the North Carolina side of the Park, about three miles south of Newfound Gap.   The motor home, driven by Robert McCanna Reilly, III, 38, from Miami, Fla., was traveling south on Newfound Gap Road (U.S. 441).  The accident occurred when Reilly attempted to pull the vehicle off the road onto a gravel section of the shoulder but was unable to stop before the shoulder became too narrow to support the vehicle.  The RV fell onto its side and slid about 100 feet down an extremely steep embankment.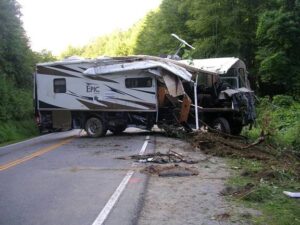 Six of the seven occupants were injured.  The driver did not suffer any injuries.  Two of the patients with severe injuries were transported by Mountain Area Medical Airlift (MAMA) to Memorial Mission Hospital in Asheville, N.C.  Four other individuals were transported by Cherokee Tribal Ambulance to Cherokee Indian Hospital with less serious injuries. 
The two individuals transported by MAMA were a 13-year old boy who was in the front passenger seat; and Eduard Koefler, 57, was in the back of the vehicle.  The 13-year-old was not wearing a seatbelt and was ejected from the vehicle.  Eduard was removed from inside the vehicle by the occupants. 
The other four patients were:  Christoper Koefler,18; Ino Reilly, 30; Bridgette Koefler, 56, and Julia Koefler, 10.  The Koeflers are all from Austria and were visiting their relatives, the Reilly's who live in Miami. 
The Newfound Gap Road was closed about 12:30 p.m. as emergency personnel from Great Smoky Mountains National Park and several North Carolina agencies converged on the scene to provide medical assistance to the patients and conduct technical rescue operations.  When emergency personnel arrived on the scene all, but two of the passengers were alongside the road.   The patients transported by MAMA had to be hoisted up the embankment by medical personnel.   The other individuals scrambled up the embankment to the roadside.
The North Carolina emergency services that were instrumental in the rescue included Cherokee Tribal Emergency Management Services, Bryson City Fire Department, Swain County Rescue, Cherokee Fire Department, and Cherokee Natural Resources. 
A crane service was called in to remove the RV from the site.  
Source: GSMNP release