By SCOTT MCKIE B.P.
One Feather Asst. Editor
Kituwah, LLC, an entity of the Eastern Band of Cherokee Indians (EBCI) is involved in the development of a Sports Illustrated Resort in Tuscaloosa, Ala. – home of the University of Alabama.  With an opening in late 2025, the Resort will be the first of several planned for college towns.
The Resort is being developed by Travel + Leisure Co. and Sports Hospitality Ventures, LLC.
Christopher Schroeder, Sports Hospitality Ventures, LLC chief executive officer, said in a statement, "Sports Illustrated Resorts are about hospitality, lifestyle, leisure, and entertainment where we celebrate not only the legacy of Sports Illustrated, but the path it is on now, by immersing our guests in the iconic imagery and providing the best entertainment, cuisine, fitness, health, and wellness to our guests."
"People are seeking differentiated experiences that allow them to be more active and participatory and Sports Illustrated Resorts are delivering the ultimate experiences for guests through the hospitality destinations we are creating."
The Resort will include a mixture of hotel, residential, and vacation club offerings.  Located across the Black Warrior River, it will also include a Sports Illustrated Museum.
"This will be the biggest thing for the next decade in hospitality," Chris McCoy, president of Kituwah Global Marketing & Brand Management, told the One Feather.
Mark Hubble, Kituwah, LLC, executive director, commented, "People are familiar with Travel + Leisure primarily through the magazine, but the primary company purpose is being the largest time share and vacation rental company in the world.  They're publicly traded on the New York Stock Exchange, and they have approximately 235 resorts worldwide."
"The Tribe owns 37.4 percent of Sports Illustrated Resorts equity," said Hubble.  "It positions that company for really fast growth.  By partnering with a company like Travel + Leisure, we can marry and merge the hotel operations, the resort operations, and the vacation ownership operations together."
Hubble said this will provide benefits for individual EBCI tribal members.  He noted a web page will be set up, similar to that of Wyndham Rewards, whereby tribal members can go to receive discounts on Sports Illustrated Resorts and Travel + Leisure properties.  "It'll allow resort searching and booking directly online."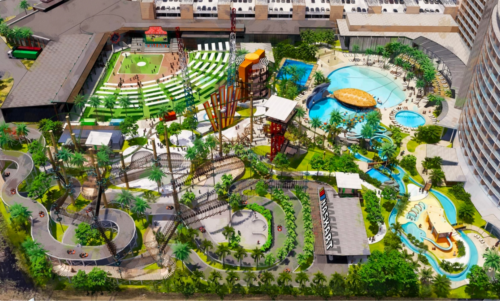 He noted there will be easy access to member benefit information and 30 percent off any North American destination for both Sports Illustrated Resorts and Travel + Leisure.
"From a monetary standpoint, this starts to grow the Sports Illustrated Resorts brand to where it will become a phenomenal brand, and with the Tribe having significant equity participation," Hubble said.
McCoy added, "Our partnerships are exploring the possibility of hospitality development at a number of college campuses nationwide.  We have a lot of interest from universities.  We have a lot of interest from outside parties, and continued growth of various industry partnerships."
Hubble commented, "What Travel + Leisure is doing is all with their own money.  There are no tribal funds involved."
McCoy further stated, "If we don't get involved in this equity-wise, we will benefit from the brand licensing.  So, every room that they rent, every condo that they sell, there is a percentage coming back to our company's Sports Hospitality Ventures, and we're 37 percent equity owners in that."
"We're about building for our Tribe a sense of ownership and pride about this.  It is a great opportunity for the Tribe to really be put on the map.  We're leveraging partners who are as excited as we are.  Speaking of the late Councilwoman Tommye Saunooke, she was always interested in making sure other people were putting their investment into our projects – that our partners were putting in as much as we were.  This is a part of that; this is paying honor to that.  I think our leadership likes to see that, and our public likes to see that other people are as interested as we are in seeing the success of these projects.  It's going to bring long-time wealth to the Tribe."
While designs for the Tuscaloosa project aren't finalized, Kituwah, LLC officials assure one aspect.
"Cherokee and other tribal aspects will be represented in some form or fashion," said McCoy.  "They've been very open to the concepts of introducing our native values, arts and culture into some design, some marketing materials – very similar to what other tribes do who have industries similar to this.  Some things will be very front-facing, and some things will be more subtle.  You'll see Cherokee; you'll know it's us."  "We are hoping that other tribes will want to get involved and that we can help them join us in this journey, whether they build their own, rebrand, or take an investment position in any of our wonderful pipeline of projects."
He went on to say, "Part of our mission is to generate that pride of ownership with our community and let them know, this is yours.  Just because Kituwah (LLC) works on behalf of the Tribe, this isn't ours; this is EBCI's.  We have to operate it and do the business dealings, but when we're out there making these deals, we're working hard to make sure that the public is represented, our culture is represented, and that the benefit comes back to match the strategy of the Tribe."
Michael D. Brown, Travel + Leisure Co. president and chief executive officer, said in a statement, "This project is a tangible demonstration of our multi-brand strategy to grow our business with new exciting partnerships.  As the world's leading membership and leisure travel company, we are uniquely positioned to be able to partner with brands and hospitality companies to develop customized vacation club products for their customers."