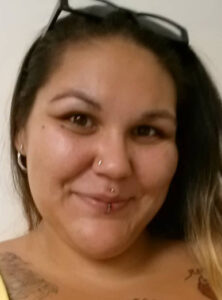 Alyson L. Penland, age 31, passed away unexpectedly on Tuesday, Sept. 5, 2023 at her residence in South Carolina. She is the daughter of the late William Penland Jr. and Sharon Sequoyah.
Alyson is survived by her children, Wilbur Sequoyah, Lula Sequoyah, and Julyssa "Juicy" Sequoyah; sister, Kerry Penland; long-time partner, "Cowboy" Ramirez; aunts, Sammi Sequoyah, Reva Sequoyah, Cindy Ayers, "Ike" Lossiah; and many cousins.
She is preceded in death by her sister, Kori Penland; grandfather, Charles "Wilbur" Sequoyah; grandmother, Lula Sequoyah; uncles, Lewis "Beaver" Sequoyah, Charles "Charlie" Sequoyah; and aunts, Frances Sequoyah and Carol Standingdeer.
A friend to many, Alyson was always laughing and joking.  She always had something to say. She was charismatic and would talk to anyone, very open-minded. She will be missed by many. A Memorial Service will be held on Saturday, Sept. 16 for both, Alyson and her father, William, at Long House Funeral Home beginning at 2 p.m.
Long House Funeral Home assisted the family with final arrangements.