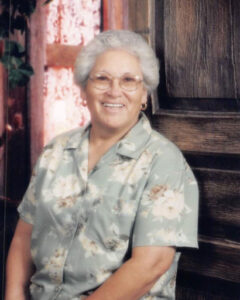 Patricia Marie Fourkiller, 82 years old of Stilwell, Fairfield Community, Okla., has passed into the gracious care of the lord on Tuesday, Sept. 5, 2023. Patricia was born to Nancy and James Grigsby on April 22, 1941, in Stilwell, Okla. She had nine siblings.
She is survived by her husband, Raymond Fourkiller, of Stilwell, Okla.; her daughter, Lynn and husband Anthony Swearengin; grandchildren, Levi and Ethan, of Cherokee, N.C.; her son, Kevin and wife Karen Fourkiller; and grandchildren Josh and wife Tiara, Rance and wife Samantha, Joan Fourkiller and Tyler Dobbs and wife Bailey; great grandchildren, Creed, Lyric, Crossley, Ellie, River, Shiloh, Marney, and Dempsey of Stilwell, Okla.; her son; Brice Fourkiller; grandchildren, Jordan, Darian, and Paige Fourkiller; great grandchildren, Leytin, Luzita, and Nevaeh, and Jeshua Livers of Stilwell, Okla.; her daughter, Tamitha and husband Dwayne Fourkiller; grandchildren, Josiah, Felix, and Maya Lossiah of Cherokee, N.C.
Patricia graduated from Northeastern State University of Tahlequah, Okla. with a bachelor's degree in science and education. She taught two years in Gallup, N.M., one year in Pinion, Ariz., and retired after 13 years of teaching second grade at Cherokee Central Schools in Cherokee, N.C.
From Grandma,
"As a grandma, I'm not perfect, I make mistakes. I forget things. I lose my cool, and some days I go a little crazy. But it's okay because in the end no one could ever love my kids and grandkids the way I so!  1. Josh, Rance, Joah, Tyler, Ellie, Creed, Lyric, Crossley, River, and Shiloh. 2. Ethan and Levi. 3. Jordan, Paige, and Jeshua, Leytn, Lucita, and Neveah. 4. Jasiah, Felix, Maya. 5. Dempsey, Marney, Lynn, Kevin, B.C., and Tamitha."