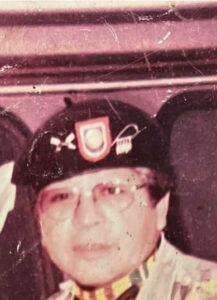 Samuel "Sam" L. Thompson, age 74, passed away unexpectedly at his residence on Tuesday, Sept. 5, 2023.
He is survived by his children, Michelle Thompson, Steven Thompson (Frieda), Rissy Plott (Grandpa Shannon), Charlie Jumper, and Damion Kalonaheskie (Leticia); grandchildren, Chayton (Sabrina), Darius, Becca, Ayden, Nyree, Jayanna, Tyruss, Niko, Laylah, Elli Thompson, Sunshine Hicks (Travis), Bea, Jordan Grant, and Kealan Jumper; eight great grandchildren, Kendryk, Aliya, Everleigh, Leilani, McKell, Sage, Blossom, and Jobe;  sister, Elnora Thompson; nephew, Mike Thompson; aunt, Nannie Brown; special cousin, Dave Montelongo and family; special friend, Hoss Jumper; his companion, Lisa Toineeta and family; and many cousins also survive.
Samuel is preceded in death by his mother, Beulah Powell Thompson; son, Jason L. Thompson; sister, Elsie Calhoun; mother of his children, Sue Thompson; and aunt, Nellie Driver.
Sam was a Vietnam Veteran and proud to serve. He was a pottery maker and known for his wedding vases. He loved to go hunting for mushrooms and fishing. He was also a member of the Tsalagi Warriors Color Guard in previous years. Sam had a kind heart and was a good friend. He loved his children and was most proud of being Papaw Sam. His grandbabies and great grandbabies were his heart.
A visitation will be held on Friday, Sept. 8 in the chapel of Long House Funeral Home beginning at 12 p.m. until 2 p.m.  A formal funeral service will begin at 2 p.m. with Kenny Davis officiating. Burial will be in the Thompson Family Cemetery. Pallbearers will be Chayton Thompson, Darius Thompson, Ayden Thompson, Tyruss Thompson, Niko Thompson, Mike Thompson, Will Tushka, Jordan Grant, Toad Arch, Will Arch, and Cory W. Honorary Pallbearers will be Shannon Plott, Kendryk Crowe, and Kealan Jumper.
Long House Funeral Home assisted the family with final arrangements.