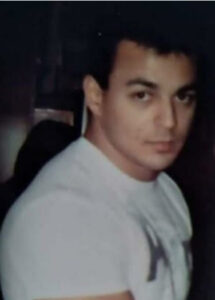 Farrell Edward Oocumma, age 37, passed away unexpectedly at his residence on Saturday, Sept. 2, 2023.
He is the son of Norma Oocumma Davidson and father figure, John Long. Also surviving are aunts, Susan, Michelle and Peggy; uncles, Clint, Moses, TJ, and Nunnie; grandmother, Sue Loy of Tennessee; and special cousins, Jordan, Alessandra, Curtis, Kayla, Justin, Corey, Daphne, and Brandi.
Farrell is preceded in death by his Aunt Annie, Uncle Joe; Grandpa Joe, Jenny Driver, and Cousin Johnathon.
Farrell was a member of Rock Springs Baptist Church. He shared his gift of playing the guitar. It was his passion he had from the time he taught himself in his early teenage years. His ability to play music was a true blessing to all who heard him play. His sense of humor will also be remembered by his family and friends.
Due to no funeral services, if anyone wants to bring flowers to the church on Saturday, Sept. 9, please bring real/live flowers so they can be planted at his Mother's residence. A visitation will be held on Saturday, Sept. 9 at Rock Springs Baptist Church from 12 p.m. until 3 p.m.  Pastor Greg Morgan will officiate a service beginning at 3 p.m.
Long House Funeral Home assisted the family with final arrangements.