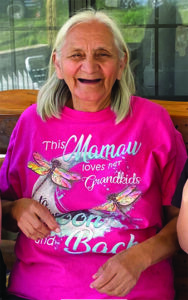 Dorothy Jean Ledford, 74, of Lexington and formerly of Cherokee, went home to be with her ancestors on Tuesday, Sept. 28, 2021. A native of Cherokee and longtime resident of Lexington, she was the daughter of the late Caroline Ledford. In addition to her mother, she was also preceded in death by her sisters, Mary Ledford Smith, Julia Griffin, and Patsy Maney.
She is survived by her three daughters, Carolyn Wood, Lavinia Partin, and Tonya Ledford; grandchildren, Dorothy Carol Swadling, Cami Higgins, Nicholas Hatley, and Dalton Partin; and great grandchildren, Madison Higgins, Haley Swadling, Katie Swadling, Emma Swadling, Tanner Higgins, and Calean Hatley.
Funeral Services will be held 3 p.m. Sunday, Oct. 3 at Crisp Funeral Home Chapel.
The family will receive friends from 2 p.m. until 3 p.m. Sunday at the Funeral Home.