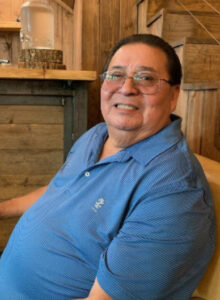 Herman Wachacha Sr., age 67, of the Snowbird Community, passed away Tuesday, Sept. 21, 2021 at Mission Hospital in Asheville after an extended illness. He was born Oct. 18, 1953 in Graham County to the late Henry Wachacha and Dinah Teesateskie Wachacha.
Herman is survived by his wife, Pamela Lakey Wachacha; children, Megan Wachacha (Jose) and Herman Wachacha Jr.; step-children, Scott Lakey (Katie), Shawn Lakey (Grey) and Stone Lakey (Samantha); sister, Cindy Wachacha; and seven grandchildren, Elijah (Timiyah) Wachacha, Maritsa Wachacha (JayDee), Trinity Kirkpatrick, Jordan Wolfe, Tara Wolfe, Jose Martinez, and Kristian Martinez. Herman is also survived by a number of great grandchildren, nieces, and nephews.
In addition to his parents, Herman is preceded in death by five brothers, Anderson "Andy" Wachacha, Reno Wachacha, Dempsey Jumper, Leroy Jumper, and Josh Wachacha; sisters, Marenna Locklear, Louisa Grindstaff and Lawanda Shurtleff; two children, Lindy Wachacha and Travis Wolfe; one great grandson, Herman Luke Crowe. Herman was a fluent Cherokee speaker and a faithful member of Zion Hill Baptist Church, where he led the choir singing in both Cherokee and English.
The family will have a visitation on Saturday, Sept. 25, 2021 at the Little Snowbird Field beginning at 12 p.m. until 2 p.m. A formal funeral service will begin at 2 p.m. Burial will be in the Ledford Cemetery.
Long House Funeral Home assisted the family with final arrangements.