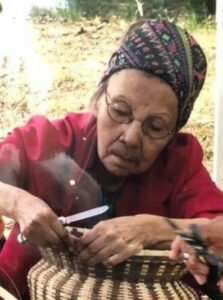 Annie Welch French, age 87, of the Big Cove Community in Cherokee, passed away on Friday, Sept. 17, 2021, surrounded by her family. She was the daughter of the late Adam and Annie Powell Welch.
She is survived by her daughter, Marissa Smith; son, Ronald French (Pat); grandsons, Swann Rattler (Amber), Jack Rattler, and Tim "Jr. Man" Smith (Kiki); granddaughter, Tianna Smith; special Nieces, Kerry Jachim and Monica Taylor; special nephew, Alfred Welch (Maybelle); and she has six great grandchildren and numerous nieces and nephews.
Annie was preceded in death by her husband, Johnny K. French; brothers, Frank, Wilson, John, Simpson, Russell, David, Wiggins, and Larch; sisters, Agnes, Charlotte, Margaret, Nonnie, Elsie, and Mollie; and one granddaughter, Baby Girl Rattler.
Like her sisters, Annie was a basket maker. She would demonstrate alongside her sister, Mollie, at the Fading Voices Festival in Snowbird. She loved her children, grandchildren, and great grandchildren. She was an avid bingo player.
A formal funeral service was held on Tuesday, Sept. 21 at Straight Fork Baptist Church with Brother Joe Wolfe officiating. Burial was in the Welch Family Cemetery on Gallimore.
Pallbearers were Swann Rattler, Jack Rattler, JR Smith, Sam Watty, Freelin Welch, and Alvin Swayney.
Long House Funeral Home assisted the family with final arrangements.