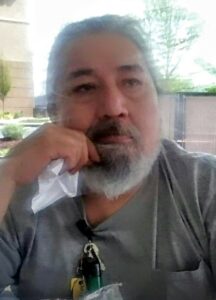 Daniel Dean Walkingstick Sr., age 70, passed away unexpectedly on Sunday, May 16, 2021 at his residence. He is the son of the late John Walkingstick and Emma Walkingstick.
Surviving Daniel are his children, William Walkingstick, Carla Walkingstick, and Shane Walkingstick; brother, John Ed Walkingstick; sisters, Emily West and Maybelle Dunn; aunt, Joy Smith; and special friend, Kina Swimmer.
Daniel was also preceded in death by his wife, Donna Roberta Walkingstick; sons, Daniel Jr., Johnny Walkingstick, and Nicky Jack Walkingstick; and daughter, Ongeequay Walkingstick.
Funeral services were held on May 19 with Harley Maney officiating.  Burial was at the home.  Pallbearers were among friends and family.
Long House Funeral Home assisted the family with final arrangement.