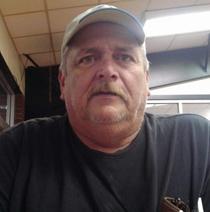 Carl Ellis Parker, 59, of Cherokee, passed away unexpectedly at his residence on Saturday, Dec. 7, 2019.

Carl was the son of the late Ellis Edgar Parker and Zenobia Vera (Wilnoty) Parker.  He was a carpenter by trade but had also made his way as a machinist in the past. He was a pleasure to be around by those that knew him.  His children shared that "Dad was a kind man who always stood up for what he believed in no matter what the cost.  He was always a sucker for a good joke and he certainly had a knack for turning frowns into smiles.  He will always be missed and will forever remain in our hearts."

Carl leaves behind his children, Selena Zenobia Parker of Transylvania Co., Candice Parker Cox of Henderson Co., Ashley Parker of Henderson Co., and Christopher Ellis Parker of Henderson Co.; brothers, Raymond Lee Parker of Henderson Co. and David Edgar Parker of Cherokee; sister, Shirley Hubbard of Cherokee; grandchildren, Dawson Russell Cox and Tobias Allen Griffin; niece, Sierra Juarez; nephews, Ellis Larson and Jeremey Parker; and cousin, John Crow.

The family will receive friends on Wednesday, Dec. 11 in the Chapel of Long House Funeral Home in Cherokee between 11a.m. and 1 p.m.  A funeral will follow the visitation in the Chapel starting at 1p.m. with Mr. Mark Crowe officiating.  In lieu of cemetery flowers the family requests home arrangements be sent in memory of their Dad.

Long House Funeral Home of Cherokee assisted in the final arrangements.