By SHEENA BRINGS PLENTY 
Merry Christmas!! This time of year is always my favorite. I love the lights, the songs, and the festivities, but I love the food more! I always loved baking and cooking with my mom and great grandma as a kid. The love of cooking and baking continued to grow for me as an adult and I even went to culinary school and got my degree in Baking and Pastry Arts. Christmas cooking and baking is especially exciting for me because I get to make fun recipes that I don't normally make.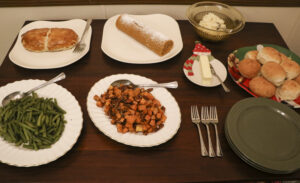 When you're taking on something as big as Christmas dinner, planning is the key! I usually spend about a week or so thinking about and planning out my Christmas menu. Once I get the menu down, I move on to a grocery list. Then I lay out all my recipes and plan out my time so I can be organized and everything gets done at the same time. This also allows me to not get overwhelmed when I am in the middle of everything. (see below for my organizational time management list) Also, be sure to plan out your utensils, pans, and serving plates so be sure you have enough of what you need. 
Whether you cook a big meal, or a little meal, or go out for Chinese like in "A Christmas Story", take time to look around and truly enjoy it. Each year is another gift that we should be grateful for. I hope you and your family have a wonderful holiday season full of warmth, love, peace, and joy.
Photos by Scott McKie B.P./One Feather staff
Time Management list
(make pumpkin roll a day ahead and chill)
1. Chop and cook mushrooms. Set aside.
2. Mix rolls. Set in laundry room to rise.
3. Sear beef, brush with mustard, wrap, and chill – 20 minutes.
4. Divide roll dough and place on pans. Preheat oven to 425.
5. Snap beans and cut sweet potatoes, place in bowls and cover. Set aside. Wrap beef in pastry – chill 15 minutes.
6. Bake rolls – reduce heat to 400, cool rolls on rack. 
7. Glaze Wellington again and put in oven – 20 minutes
8. Wash, peel, cut potatoes – boil water for beans, bring beans and potatoes to a boil.
9. Reduce oven temp to 350 – put in sweet potatoes
10. Drain, mash potatoes, keep warm. Pull out Wellington – rest on cutting board. Raise oven to 400.
11. Pull out sweet potatoes – plate.
12. Plate Wellington, rolls, mashed potatoes. 
13. Pull out pumpkin roll, slice. 
14 Serve! 
Gordon Ramsay's Beef Wellington
Yield: 4 servings
14 ounces flat cap or button mushrooms
salt and pepper to taste
2-3 Tablespoons olive oil
26 ounces beef fillet, dry
1-2 Tablespoons English or Dijon mustard
6-8 slices parma ham or prosciutto
1 roll puff pastry
All-purpose flour, for dusting
2 egg yolks, beaten
1. Pulse mushrooms in a food processor (or chop very finely) to a rough paste. Season with salt and pepper. Heat a tablespoon of olive oil in a small pan over medium-high heat and add mushroom paste. Cook for about 10 minutes to cook out all the moisture. Set aside to cool. 
2. Heat the remaining 2 tablespoons of olive oil in a frying pan or cast iron skillet over medium-high. Season the beef with salt and pepper and sear on all sides. Set aside too cool. 
3. Once the beef has cooled, brush it on all sides with the mustard. 
4. Lay out a layer of plastic wrap onto a table or countertop. Layer the parma ham or prosciutto onto the plastic wrap, overlapping slightly. Top with mushroom paste, then place mustard-covered beef in the middle. Using the plastic wrap to help, wrap the parma over the beef tightly. Twist the ends of the plastic wrap so it seals the beef package tightly. Chill for 15-20 minutes.
5. Preheat the oven to 400 degrees.
6. On a clean countertop or table, sprinkle a small amount of flour and unroll puff pastry. If it is not already, use a rolling pin to flatten the puff pastry to 1/4-inch thick. Unwrap the beef package and set it in the middle of the puff pastry. Brush pastry with the egg yolk and roll the pastry around the beef package tightly. Cut off excess and pinch the edges around the beef tightly so no part of the beef is showing. Place seam-side down onto a baking sheet lined with parchment paper. Brush the outside of the puff pastry with the egg yolk. Chill 15 minutes.
7. Glaze the puff pastry again with the egg yolk and score the top shallowly with a knife. (Don't cut all the way through the puff pastry. This is just for decoration.)
8. Bake for 20 minutes in the middle of the oven. Then reduce the heat to 350 degrees and bake another 15 minutes. Remove from the oven and place on a cutting board to rest. Allow it to rest for 15 minutes more. 
Sixty-minute rolls
Yield: 12-24 rolls
1/2 cup low-fat milk
1/4 cup granulated sugar
2 teaspoons salt
3 Tablespoons butter
3 packages (1/4 ounce each) active dry yeast
1 1/2 cups warm water (105-115 degrees)
5-6 cups all-purpose flour
1. Place milk, sugar, salt, and butter in a small saucepan. Heat over low until the butter melts and sugar dissolves. Cool to lukewarm. 
2. Dissolve yeast in warm water in a mixer bowl. Add lukewarm milk mixture and 4 1/2 cups of flour. Attach bowl and dough hook to mixer. Turn to speed 2 and mix about 1 minute. 
3. Continuing on speed 2, add remaining flour, 1/2 cup at a time, and mix until dough clings to the hook and cleans the sides of the bowl, about 2 minutes. (Depending on the moisture in the air, you may or may not use all of the flour. Just add flour until it cleans the sides of the bowl.)
4. Knead on speed 2 about 2 minutes longer, or until dough is smooth and elastic. Dough will be slightly sticky to the touch. 
5. Place the dough into a large greased bowl that is twice as big as the amount of dough. Cover with plastic wrap and place in a warm place, free from draft, about 15 minutes (I put mine on top of my dryer and turn the dryer on). Preheat oven to 425 degrees. 
6. Turn dough onto lightly floured surface. Cut into 12-24 equal pieces (depending on how many rolls you want). Roll each piece into a ball. Place on a baking sheet lined with parchment paper and allow to rise in a warm place free from draft about 15 minutes. (They are ready if an indention remains when you poke it with your finger. If the indention pops back out, allow to sit another 5 minutes and check again)
7. Bake 10-12 minutes, or until golden brown. Remove from pans immediately and cool on a wire rack. 
Sheena's pumpkin roll
Yield: 12-16 servings
Cake:
3 whole eggs
1 cup granulated sugar
1/2 can pumpkin puree 
1 teaspoon vanilla extract
3/4 cup all-purpose flour
1 teaspoon salt
1/2 teaspoon cinnamon
1/4 teaspoon nutmeg
1/4 teaspoon ginger
1/8 teaspoon cloves
1 teaspoon baking powder
Filling: 
4 ounces cream cheese, softened
2 Tablespoons butter, softened
1 cup powdered sugar
1/2 teaspoon vanilla extract
1. Preheat oven to 375 degrees. Grease and line a sheet pan 10″ x 15″ x 1″. Set aside. 
2. For the cake, beat the eggs with a whisk or in a mixer with the whisk attachment until VERY thick. Then, while beating, stream in the sugar gradually. Add the pumpkin and vanilla. 
3. Add the flour, salt, spices, and baking powder. Beat just until smooth. 
4. Pour into the prepared pan and smooth the top.
5. Bake 12-15 until springy. Invert immediately onto a kitchen towel that has been sprinkled generously with powdered sugar. Starting at one of the short ends, roll the cake up in the towel and allow to cool completely to room temperature. 
6. Meanwhile, make the filling. Beat the cream cheese and butter together until thoroughly mixed. Scrape the bowl down frequently. Add the powdered sugar and vanilla and beat until smooth. 
7. Once the cake has cooled completely, unroll it and spread the filling evenly over it. Re-roll, removing the cake from the towel. Place on a serving plate and sprinkle with powdered sugar. Serve. 
Green beans
2 pounds fresh green beans
1 Tablespoon butter
1/2 teaspoon salt
1/4 teaspoon pepper
1/4 teaspoon garlic powder
1/4 teaspoon onion powder
1. Snap tops and bottoms off of beans. Snap into 1 inch pieces. 
2. Bring a large pot of water to a rapid boil.
3. Add the beans and boil for 10 minutes. 
4. Drain beans and return them to the pot. Add butter, salt, pepper, onion powder, and garlic powder. Stir and taste. Adjust seasonings, if necessary.
Roasted sweet potatoes with brown sugar and pecans
Yield: 2-4 servings
2 large sweet potatoes
olive oil
salt
1/4 cup brown sugar
1 cup pecan halves, or chopped pecans
1. Preheat oven to 400 degrees. Grease a sheet pan with enough olive oil to coat the bottom. 
2. Peel and chop the sweet potatoes into 1/2-inch cubes. Spread onto the prepared sheet pan, turning each piece to coat. Sprinkle with salt. 
3. Bake for about 20 minutes until soft and lightly browned on the bottom. 
4. Sprinkle the brown sugar and pecans over the sweet potatoes and stir to combine. Place on a serving plate. Serve. 
Sheena's mashed potatoes
Yield: 4-6 servings
8 medium to large russet potatoes, washed
3 Tablespoons butter
1/4 cup milk
3/4 cup parmesan or dubliner cheese, shredded
salt and pepper to taste
garlic powder to taste
1. Peel potatoes. Chop into 1/2-inch cubes and place in a large pot. Cover with cold water and bring to a boil.
2. Boil until potatoes are tender and fall apart when pierced with a fork.
3. Turn off the heat and drain. Place potatoes back into empty pot and back onto burner to make the remaining moisture evaporate. (You want dry, dry potatoes)
4. Add butter and begin mashing. Once the potatoes are mashed and the butter is melted in, add the milk a little at a time and stir after each addition. (For thicker potatoes, use less milk.)
5. Add the cheese, stir, and taste. Then add salt, pepper, and garlic powder to taste.