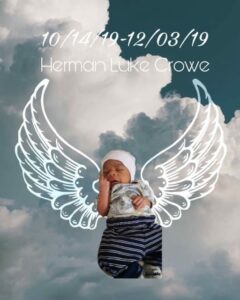 Herman Luke Crowe, the one-month-old son of Joel Daniel "JD" Crowe and Maritsa Stefani Wachacha, passed away unexpectedly on Tuesday, Dec. 3, 2019 at 10:16 a.m. after being rushed to the Cherokee Indian Hospital.
Luke, as his family knew him, was just at the start of his life and his unexpected departure leaves the family in mourning. Along with his parents, little Luke leaves behind siblings, Joshua Daniel Crowe, Jordan Crowe, Lakota Crowe and Ajaidyn Crowe; uncles, Jarrett Crowe, Elijah Wachacha and Herman Wachacha Jr.; grandmothers, Berdina Wolfe, Shirley Littlejohn-Crowe, and Megan Wachacha; and grandfathers, Herman Wachacha Sr. and Reggie Cox.
Herman Luke is preceded in death by a great-aunt, Cynthia Wachacha and great-uncle, Travis Wolfe.
The family will receive friends from 11 a.m. to 1 p.m. on Saturday, Dec. 7 at the Zion Hill Baptist Church on Corn Silk Branch Rd. in the Snowbird Community of Robbinsville.  A funeral will follow the visitation at 1 p.m. at the Church with the Rev. James "Bo" Parris officiating.  An immediate burial will follow the service in the Ledford Cemetery in the Snowbird Community with Elijah Wachacha and Reggie Cox acting as pall bearers.
Long House Funeral Home assisted the family in the final arrangements.