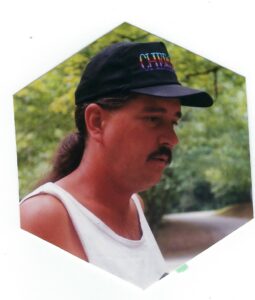 Philip Duke Smith, 55, of Cherokee, passed away on Wednesday, Oct. 16, 2019 at the Cherokee Indian Hospital surrounded by his loving family following a long battle with illness.
Born on March 2, 1964 and known to everyone as Duke, he was the son of Dee Smith of Cherokee.  He graduated from Cherokee High School and Southwestern Community College with a degree in masonry. He worked in construction, mainly in Virginia Beach, Va. but later returned home to Cherokee where he enjoyed working on home renovations and award-winning wood carvings.
Duke was an avid Cherokee Braves and Duke Blue Devils fan.  He also loved NASCAR racing, fishing, outdoor activities, and was well versed in 1980's rock music.  He had a great sense of humor and a caring, generous personality. He volunteered for church missions in South America, Mexico, and storm relief work in Louisiana, North Carolina, and Virginia.
Duke was preceded in death by close family friend, Gus George and grandparents, Ralph "Tony" and Kathryn Thompson.
He is survived by son, James Hargrave (Kelly); grandchildren, Hunter, Nate, and Brooke, all of Pittsburgh, Pa.; mother, Dee Smith; sisters, Kathi (Leroy) Littlejohn, Jan (Howard) Smith, Phyll (Bubba) Reed, Laura Smith; nieces and nephews; and special Friend, Arlene Squirrel and her family.
A visitation with the family will be on Saturday, Oct. 19 at 11 a.m. at the Cherokee United Methodist Church.  A Memorial Service will follow immediately at 12 p.m. with Reverend John Feree officiating.
Long House Funeral Home assisted the family in the final arrangements.