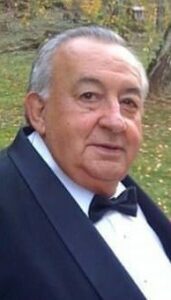 Donald "Lucky Duck" Edward Rose, 87, was born April 22, 1932 in Cherokee and passed away peacefully on Saturday, Oct. 12, 2019 at his home in Swain County following a period of declining health. He was the son of the late Ted and Mildred Rose and a member of the Eastern Band of Cherokee Indians.
Along with his parents, Don was preceded in death by his wife, Carolyn; brothers, Dale and Teddy Rose; sister, Nancy Long; and grandson, Jonathan Kalen.
Don was a retired Air Force Major and decorated Vietnam and Korean War Veteran. After retiring from the Air Force, he went to work in the defense contract arena for many years and was the founder of Command Technologies, Inc., a professional services company based out of Warrenton, Va. He returned to North Carolina in his later years and spent his time working with the Tribe. Family was very important to him and he will be greatly missed.
Don is survived by his five children including daughter, Donna (husband Andy) Dubinskas of Acworth, Ga.; son, Jeff (wife Judy) Rose of Warrenton, Va.; daughter, Beth (husband Jerry) Miratsky of Swain County; son, Rob (wife Michelle) of Swain County; and daughter, Leslie (husband Phil) Kalen of Rogersville, Tenn. along with 13 grandchildren and 13 great grandchildren. Along with his children, Donald is survived by his brother, Ray (Cathy) Rose; his sister, Phyllis Coons, Alice (Joe) Lambert, Mary (Bill) Booth, Linda Carter, Brenda (Larry) Johnson and sister, Vivian (Dan) Kieffer, all of Cherokee.
Visitation will be Wednesday, Oct. 16 from 6 p.m. to 8 p.m. at Long House Funeral Home. Funeral services will be held at Long House Funeral Home on Thursday, Oct. 17 from 1 p.m. to 2 p.m. with Rev. Percy Cunningham of Cherokee Baptist Church officiating. An immediate burial will follow at Tranquility Ridge in Cherokee with family as Pall Bearers.
Long House Funeral Home assisted with arrangements.