CULLOWHEE – "Forever a Catamount" will be the theme for Homecoming 2019 at Western Carolina University, with a schedule of public events that includes a concert by country music star Lee Brice, a parade down Main Street in Sylva, award presentations to exemplary alumni, and the traditional football game.
Homecoming gets underway on campus with student-focused activities beginning Monday, Oct. 21, and concludes with a concert by the Inspirational Gospel Choir on Sunday, Oct. 27.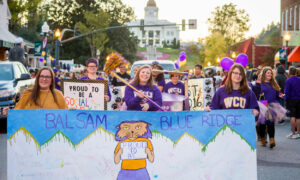 Brice will take the stage for a concert that begins at 7 p.m. Thursday, Oct. 24, at Ramsey Regional Activity Center. A native of Sumter, South Carolina, Brice played on special teams for Clemson University's football team, but he decided to focus on a career in country music after suffering an arm injury. He began working as a songwriter and co-wrote Garth Brook's 2007 single "More Than a Memory," the first single to debut at No. 1 in the history of the Billboard "Hot Country Songs" chart.
As a performer, Brice has released four albums for Curb Records – "Love Like Crazy," "Hard to Love," "I Don't Dance" and the self-titled "Lee Brice." He has taken five radio singles to No. 1, including "A Woman Like You," "Hard to Love," "I Drive Your Truck," "I Don't Dance" and "Drinking Class." Jason Aldean and Kenny Chesney are among the country artists who have recorded his songs and the Grammy nominee has been the recipient of two awards from the Academy of Country Music. Brice will be joined in the concert by singer-songwriter Hardy.
Advance tickets are on sale at https://ramsey.wcu.edu with prices set for WCU students at $12.50 arena/$22.50 floor; and for the public at $20 arena/$30 floor. Taxes and fees apply.
Events on Friday, Oct. 25, include the annual Homecoming parade that begins at 6 p.m. in downtown Sylva and features student and community floats and WCU's cheerleaders, dance team, Homecoming court and Pride of the Mountains Marching Band. Later that evening, the National Pan-Hellenic Council Stroll Off will be held in Coulter Building on the WCU campus at 8 p.m.
An action-packed Saturday, Oct. 26, starts off with the MAPHealth 5-K at 9 a.m., with proceeds going to support Mountain Area Pro Bono Health Services, and the Chancellor's Brunch and Alumni Awards event at 10 a.m., with alumni awards scheduled to be presented to Danita Johnson, class of 2005, Professional Achievement Award; Matthew Hickey, class of 1988, Academic Achievement Award; and Tyler McKenzie, class of 2013, Young Alumnus Award. Also, WCU's Distinguished Service Award for 2019 will be presented to former trustees Chair Pat Kaemmerling.
Other Oct. 26 activities include tailgating from noon until 3:30 p.m., the WCU football team's game against the Furman Paladins at 3:30 p.m., the WCU African American Alumni Society postgame reception from 6:30 to 8:30 p.m. at the Ramsey Center, an African American alumni reception from 9 to 10:30 p.m. in Illusions at A.K. Hinds University Center, and the NPHC After Party from 10:30 p.m. to 12:45 a.m. in the Grandroom at the University Center.
Homecoming activities will end on a musical note Oct. 27 with the Inspirational Gospel Choir's annual concert in Illusions at the University Center. A start time will be announced later.
More information about Homecoming activities is available online at https://go.wcu.edu/homecoming or by calling the WCU Office of Alumni Engagement at 828-227-7335 or toll-free 877-440-9990.
– Western Carolina University release