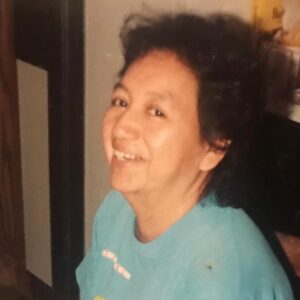 Evelyn Taylor Wachacha, 73, of Robbinsville, passed away peacefully at home with her family by her side on the night of Friday, Oct. 4, 2019.
Her parents, Julius Taylor and Katie Panther; grandparents, Jonah and Mindy Wolfe; and brother, Julius Taylor, precede her in death.
She is survived by her brothers, Richard Panther, Patrick "Sam" Panther, Kenny Panther, and James Panther all of Cherokee; and sisters, Gloria Panther-French, Pat Panther, and Debbie Panther all of Cherokee.
Evelyn was a fluent Cherokee speaker. She taught Cherokee Language at Cherokee Elementary and Robbinsville Elementary. Evelyn loved her students and the feeling was mutual. Evelyn was a graduate of Tri-County Community College, and she worked diligently to ensure that all seven of her children had college educations.
She is survived by her spouse of 54 years, Wayne Wachacha.
Evelyn has seven children, Eve Wachacha of Robbinsville, Jennifer Wachacha of Robbinsville, Candace Wachacha Crowe (Sam) of Cherokee, Melissa Wachacha Crowe (Troy) of Cherokee, Jeremy Wachacha of Cherokee, Clara Wachacha of Robbinsville, and Paige Wachacha Gross (Aaron) of Robbinsville.
Evelyn was the proud grandmother of Adrian Chekelelee, Zachary Chekelelee (Brittney), Samantha Crowe-Hernandez (Manuel), Kaleb Chekelelee, Kayla Crowe, Isaiah Chekelelee, Carr Crowe, Gabriel Chekelelee, Taylor Wachacha, Trae Crowe, Jaron Ayers (Macey), John Wayne Wachacha, Blake Wachacha, Jensen Thompson, Rossi Wachacha, Dasan Gross, Katie-Lyn Gross, and Canyon Gross.
Evelyn's great-grandchildren are Talan, Samuel, Zachlan, Emory, Morgan, Zayleigh, Colton, Kaiser, Zeller, Legend, Rory, Maverick, Dwayne, and Zadie.
She had two adopted daughters, Jill Jones and Mary Ann Trull and one special granddaughter, Nadallee Beasley.
Crisp Funeral Home of Bryson City is handling the funeral arrangements. Visitation will be held on Sunday, Oct. 6 starting at 6 p.m. The funeral will be held on Monday, Oct. 7, at 2 p.m. Both services will be held at Church of the Lamb. Burial will take place in the Buffalo Church cemetery.