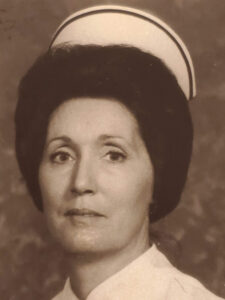 Edith Enloe Armachain, 90, of the Bigwitch Community, went to her heavenly home on Sunday, Sept. 29,2019. Edith was born in the Birdtown Community of Cherokee. Edith was feisty and sassy. She loved to watch raccoons, birds and turkeys at her house. She was a former director of Nursing at Cherokee Indian Hospital and retired from Indian Health Services.
Edith was preceded in death by her husband, William Armachain; daughter, Lynda Armachain; father, Grover Enloe; mother, Delia Lambert; and brother, William Enloe. She was also preceded in death by her grandchildren, Gina Younce and Jimmy Johnson Jr.
Edith is survived by her daughters, Bambi Sneed (Dike), Teresa Troupe (Clifford), Elaine Younce; and son, William Armachain (Cathy), in addition to her sister, Ethel Francum. She leaves behind grandchildren, Mia Aldridge (Carl), Brent Younce (Heather), Cameron Younce (Amanda), Angela Jordan, Jason Johnson (Angel), Roman Armachain (Amey), Dustin Armachain (Keena), Brandon Grimmett, James Troupe, Shaun Troupe, Tiffany Stephens (Ken), Shondi Johnson (Jeff), and Hannah Johnson.
Edith had 37 great grandchildren and nine great great grandchildren.
Burial will be in the Tow String Cemetery.  A graveside service will be held at a later date. In lieu of flowers, donations to the Cherokee EMS service would be appreciated.
Long House Funeral Home assisted with arrangements.