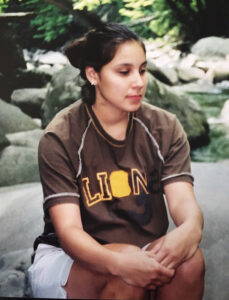 Amanda Lynn George, 37 of the Wolftown Community, was called to her eternal home Tuesday, Sept. 24, 2019. She is survived by her two children, whom she held in her heart as treasures, Breydan and Kieaira, and the love of her life, Roy Bradley. Amanda is the daughter of Martha and Calloway Ledford, and the late Vaughan Albert Sr.
Amanda knew no stranger and welcomed everyone with arms wide open and a kiss on the head or cheek. She was an avid Clemson Tigers fan and she loved Carolina Tarheels Basketball. She worked at Harrah's Cherokee Casino in the Total Rewards program. Amanda was a second language learner. She worked in childcare at the New Kituwah Academy for several years. She loved her language and was actively pursuing ways to learn and preserve the language.
In addition to her parents, children and Roy; Amanda is survived by several brothers and sisters, Kelly Long-Sampson (John), Channing George, Chad George, Karla George, Heather Singleton, Trace Albert (Tawania), Dianne Driver (Frank), Allen Ledford (Lisa), Calloway Ledford Jr (Shelly), Mark Ledford, Alicia Bradley (Chigger), and Chris Ledford (Joni) all of Cherokee, as well as Vaughan Albert Jr. (Jackie) and Clint Albert (Starr) of Muncey, Ontario, Canada.
She also leaves behind many nieces and nephews, and one great nephew.  She loved them like they were her own and many times said, "These were my babies before I had my own and they always will be". In addition she leaves behind her uncle, Dan Conseen (Tracy) and uncle, Don Conseen; aunt, Gloria Griffin and aunt, Deb Conseen Bradley (Craig).
Amanda leaves behind many special friends, Mike "Peckerhead" Oocumma, Charlie Burgess, George Burgess, Roger McCoy, Nehi Toineeta and so many more.
Amanda is loved by many and will be missed.
Funeral services were held at the Macedonia Church on Friday, Sept. 27 with Pastor Dan Conseen officiating.  An immediate burial followed at the Amanda Lynn Family Cemetery.  Pallbearers were among special friends and family.  Brothers in the Wind escorted Amanda to her final resting place.