By SCOTT MCKIE B.P.
ONE FEATHER STAFF
Last April, a resolution was passed by Tribal Council establishing a lobby wall in the Tribal Council House to display photographs of the Beloved Men and Women of the Eastern Band of Cherokee Indians (EBCI).  The resolution (No. 179 – 2018), submitted by Wolftown Rep. Jeremy Wilson, passed unanimously, but to date no photos have been put up.
I think that's a great idea, and I've actually contributed photos I've taken of several of the Beloved people to the effort.  I'm sure it will be coming soon.
But, I would like to see more.
A few years ago, a bronze statue was commissioned and constructed to memorialize PFC Charles George, a member of the Eastern Band of Cherokee Indians who sacrificed his life in Korea and was given the Medal the Honor for his bravery.  That statue is now the cornerstone of the Cherokee Veterans Park adjacent to the Tribal Council House.
A few nights ago, I was talking with Dawn Arneach, Museum of the Cherokee Indian interim executive director, who told me that they have been tossing around the idea of putting statues in their courtyard area.
First off, I think that idea is brilliant, and I feel that would be a great area for a full display of statues honoring the Beloved people of the EBCI.  During discussion for Rep. Wilson's photo display legislation last year, Becky Walker, an EBCI tribal member from the Birdtown Community, suggested having a biography included with each person's display.  This would be a grand idea for the statues as well.
She noted then, "Even though we know that Jerry (Wolfe) announced at the stickball games, that wasn't why he was given that title.  It was for the work that he had done in the community.  It was his real contributions to the people.  So, I think the truest way to honor them is to tell their story…it's their legacy, and their legacy is how they impacted the lives of other people."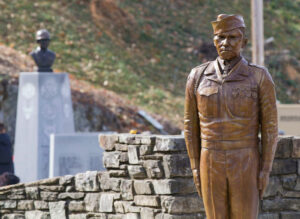 Those are all excellent points, and Walker's last statement is one of the main reasons why I feel a public display would be appropriate.  Not many people go inside the Tribal Council House, and visitors to the reservation probably almost never go there.
But, having statues in a public area such as the Museum or some other place in the Cherokee Cultural District would really help to educate the public on who these amazing people were and how they made incredible impacts on the EBCI community.
The project would be a cost to the Tribe as the statue for PFC George was around $35,000 for the entirety of the work, but that cost could be offset through fundraising efforts and even implemented in phases as opposed to all at once.
The title of Beloved Man and Woman is the most important one that can be bestowed on a Cherokee person, and having a statue and bio of each one would help pass their legacy on to future generations who might become inspired by their example.