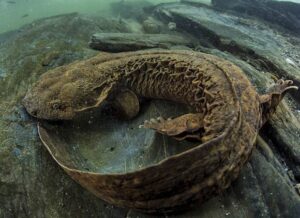 As temperatures warm and fishing and swimming season ramps up, the EBCI Department of Fisheries & Wildlife Management asks for everyone's help reporting hellbenders.
Eastern hellbenders (tsu-wa) – a species of giant salamander also called "water dogs" – live in clear, cold, fast-moving waters. They can grow to sizes of over two feet long and three pounds and may live to be 30 years old or more. Although hellbenders were once common here, declining water quality and habitat degradation have reduced their populations – but they're still occasionally spotted in tribal streams.
Contrary to popular belief, hellbenders are not poisonous, and they don't hurt the populations of trout. While hellbenders may occasionally attempt to eat a piece of bait or even a fish on a line, their diet depends more on crayfish and minnows.
To protect hellbenders, tribal wildlife officials ask that you:
Don't move rocks – Adult hellbenders depend on large, flat rocks for shelter, and their babies prefer smaller cobble. Moving these rocks will disturb the animals' habitat, as well as that of fish and other aquatic life.
Cut your line – If you catch a hellbender while fishing, cut your line. The hook will eventually fall out.
Report your sightings – The department wants information about hellbenders in tribal streams. Report sightings as soon as possible at 359-6110 or on Facebook at https://www.facebook.com/ebcifw/about/
More information about hellbenders can be found on the EBCI Natural Resources website https://cherokeenaturalresources.com/ and the North Carolina Wildlife Resources Commission website https://www.ncwildlife.org/Learning/Species/Amphibians/Eastern-Hellbender.
Info: EBCI Supervisory Biologist Caleb Hickman at calehick@nc-cherokee.com
– EBCI Natural Resources