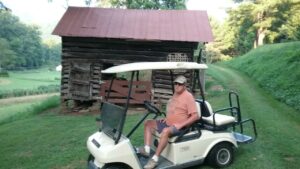 Ronnie Dale Barker, 67, of the Alarka Community, was called home to be with the Lord on April 22, 2019.  Ronnie was born to Troy and Jessie Barker on March 7, 1952 on Unahala Creek in the Alarka Community. Ronnie served proudly in the United States Marine Corps and held several public service jobs throughout his life, always striving to help those in need while providing for his family.
Ronnie was preceded in death by his parents, Troy and Jessie Barker; sisters, Wanda Jenkins and Mildred Woodard; and brothers, Fred Barker, Doyle Barker, Arville Barker, and Winfred Barker.
Ronnie is survived by his loving wife of 45 years, Opal Baines Barker; son, Craig Barker and wife Melissa of the Tow String community; daughters, Kaci Barker of Bryson City and Joselyn Glass and husband Ethan of East Bend; two loving granddaughters, Shalyn Barker and Paytyn Barker; several nieces and nephews; and lifelong friend, Jim "Frog" Frady.
Ronnie was a husband, father, grandfather, brother, uncle, friend, and neighbor. He loved his family, his home, his country, fishing, and the outdoors. He was known for his great stories, quick wit, and generosity. Ronnie passed the way he lived, on his own terms, doing what he loved to do, in the place he loved the best. Ronnie lived a full life and was a blessing to those who were fortunate enough to know him. The family takes comfort in knowing that Ronnie Dale Barker entered into his true and eternal life, greeted by the warm embrace of those who have gone before him, rising to meet the Author of All Things.
The family sincerely appreciates all of the prayers and condolences. In lieu of flowers, the family requests a donation be made to the Disabled American Vets (DAV) on behalf of Ronnie Barker and his family, "Semper Fi."
The family will receive family and friends on Wednesday, April 24  from 4 p.m. to 7 p.m. followed by a celebration of life at the home of Ronnie and Opal Barker at 327 East Alarka Road.