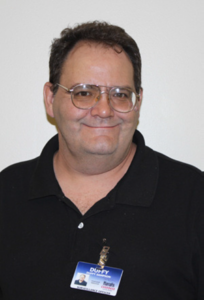 Duffy Leon Sampson, 54, of Wrights Creek in Cherokee, passed away unexpectedly on Saturday, April 13, 2019 at Harris Regional Hospital in Sylva.
Duffy was a surveillance officer at Harrah's Cherokee Casino.  He was also a veteran of the US Army.
He is survived by his daughter, Jeanette Faye Sampson Dills of Bryson City; one brother, Alan Rocky Sampson of Bryson City; sisters, Penny Johnson, Reba "Lisa" Sampson, and Tamara L. Sampson, all of Cherokee; one aunt, Gwen Wildcatt of Cherokee; nieces and nephews, April Shuler, Austin Sampson, Andrew Sampson, Alyssa Streets, Amanda Tabor, Matthew Tabor, Jake Buchanan, Samantha Johnson, Brandy Johnson, Tiffany Kaitlyn Johnson, Terra Miller, Sierra Sampson, and Aurora Martinez; and several great nieces and nephews also survive.
Duffy was preceded in death by his parents, Duffy and Helen Sampson; and ex-wife, Angela Faye McMahan Johnson.
Visitation will be held on Tuesday, April 16 beginning at 5 p.m. at the Rock Springs Baptist Church where the body will remain until the hour of service on Wednesday, April 17 at 1 p.m.  Pastors Greg Morgan, Dan Conseen, and Ernest Stiles will officiate.  Burial will follow at the Sampson Family Cemetery with military honors provided by the American Legion Steve Youngdeer Post # 143.  Pallbearers will be Christopher Miller, George Cruse, Abraham Rojas, Austin Sampson, Andrew Sampson, Sierra Sampson, Jose Rodriguez, and Aurora Martinez.
Long House Funeral Home is assisting the Sampson family.