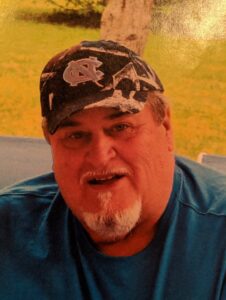 David "Dave" Ensley, 67, of the Painttown Community in Cherokee, North Carolina went to be with the Lord Saturday, April 13, 2019 after a courageous battle with cancer. Dave was the son of the late Herman B and Clydia Mae Hornbuckle Ensley.
Dave is survived by his wife of 25 years, Brenda Ensley; children, Brian (Michelle) Ensley and Rebecca Ensley, Trina Thomasson; and grandchildren, Dwight Winchester, Mitchell and Gracie Ensley, Briann Teesateskie, Siddalee Thomasson, and Gus Burgess; sisters, Charlotte Ann Bradley (Carlton) and Rebecca Ensley Butler; brother, Paul Ensley (Mary); and several nieces and nephews and their families. He also had adopted family in Oklahoma. Dave was blessed with many friends who brought fellowship and good memories to him and his family throughout his life.
He was preceded in death by son, Jordan Ensley; sister, Vivian Harlan and husband John; brother, Charlie Ensley and wife Edgarita; and nieces, Angie Harlan and Susie Jones.
Dave was an avid outdoors man. He served the Eastern Band of Cherokee Indians for more than 30 years as a game warden, manager of the Fish and Game program and as Chairman of the Cherokee Indian Police Commission. Dave created the Talking Leaves Children's Trout Derby, helped to develop the reintroduction of elk in conjunction with the Rocky Mountain Elk Foundation, and promoted fishing, camping and hiking in western North Carolina.
Services will be held at Wright's Creek Baptist Church on Wednesday, April 17 at 11 a.m. Revs. James (Bo) Parris and Eddie Sherrill will officiate with burial in the Wrights Creek Baptist Church Cemetery.
The family will receive friends from 6 p.m. to 10 p.m. Tuesday at the church.
Pallbearers will be among family and friends.