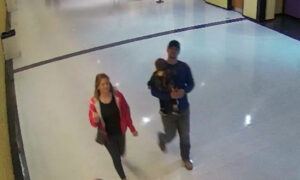 CULLOWHEE – Western Carolina University's Police Department is asking for the public's help in identifying an individual who may have been involved in the discharging of a firearm in the vicinity of the South Baseball Lot on campus around 9 p.m. Monday, March 25.
The firearm was used to cause property damage to a parked vehicle. No one was threatened with the firearm and no one was injured, said WCU Police Chief Steve Lillard.
A suspect vehicle was described as a white Toyota Highlander SUV with a black grill being driven by a white male who appeared to be in his mid-30s. Police believe he was in possession of a firearm, Lillard said.
Also in the vehicle was a white female who appeared to be in her mid-30s and three children described as elementary school age. The vehicle was seen leaving campus after the incident, Lillard said.
The incident is being investigated by WCU police. Anyone who can help identify the adults shown in this photo or with information is asked to contact the police (828) 227-8911.
– WCU release