By SCOTT MCKIE B.P.
ONE FEATHER STAFF
One team's state championship sign inspired another team to win a state championship, and now the two accomplishments are shown throughout Cherokee on new road signs.  The new road signs, honoring the 1995-96 Lady Braves 1A State Basketball Champions and the 2017 Braves 1A State Football Champions, were installed around Cherokee on the chilly morning of Friday, March 22.
The signs, in Cherokee maroon and gold, each has Cherokee syllabary at the top which reads, "1st NC Ballplayers State Championship Cherokee Girls (Boys) (they won it – a competition)".  The Cherokee "Feathered C" design is in the middle of each sign and underneath that each sign reads individually in English "2017 1A State Football Champions" and "1995-96 1A State Womens Basketball Champions".  The Lady Braves sign replaces a green N.C. Department of Transportation sign.
"Five years ago, when I first came here, one of the first things I noticed coming into the school campus was the Lady Braves 1995-96 State Championship sign, and I remember thinking that it would be great to have a football sign too," said Kent Briggs, Braves head football coach.  "I remember telling my team, five years ago, that we're going to put a sign up too someday.  It's something we talked about every year – putting our sign up there by the Lady Braves sign.  It really made us think about it."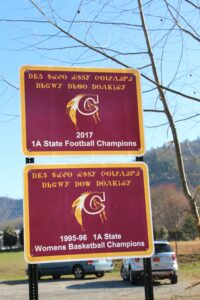 He used it as a good motivator for his teams.  "Seeing the Lady Braves 95-96 sign everyday made us want to make our mark too, and it was really fitting that we got to put one up today beside theirs."
The Braves won their football state championship on a cold day in December 2017, and Coach Briggs said just moments after that several players came up to him.  "They asked, 'when are we going to put the sign up?'  They were ready to do it right then.  They didn't know it was going to be a long process."
Coach Briggs thanked many people involved in getting the signs ready including Cherokee's High School's cultural department – Laura Pinnix and Catche Tiger, members of the Cherokee School Board, and the Cherokee Language Consortium, especially Beloved Woman Myrtle Driver and Bo Lossiah, who worked to make sure the Cherokee syllabary on the sign is correct.
Pinnix, Cherokee Central Schools Cherokee language director, praised the joint effort in getting the language on the signs.  "It does say that we are a Cherokee school, and I think that we need to show different aspects of the culture in it."
Briggs added that the signs help create a legacy.  "I think having these signs up now will help the other sports and teams and future Cherokee players to know that there's something to shoot for."