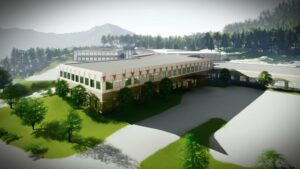 Cherokee Indian Hospital will be hosting a groundbreaking ceremony for the Crisis Stabilization Unit on Wednesday, April 24 at 2 p.m. at the old hospital site. The Crisis Stabilization Unit will be a locked facility that will serve community members, ages 18 and up, including involuntary commitments, patients with serious and persistent mental illness such as depression, bi-polar and schizophrenia as well as addiction issues.
In July 2018, Tribal leadership approved funding for a new psych/detox inpatient unit to build upon the old hospital structure located next to the new CIHA campus. Demolition began on part of the structure in February 2019 and the Crisis Stabilization Unit is set to open fall of 2020.
"We are very fortunate to have resources within our tribe to support the needs of our community," said Freida Saylor, director of Behavioral Health, "and that we have Tribal leadership who understand the importance of why this facility is vital to the healing of our people."
The groundbreaking ceremony is open to the public and, due to limited parking, shuttle services will be provided at the Cherokee Indian Fairgrounds for anyone interested in attending.
Info: Sheyahshe Littledave, public relations officer for Cherokee Indian Hospital, at Sheyahshe.Littledave@cherokeehospital.org.
– Cherokee Indian Hospital release