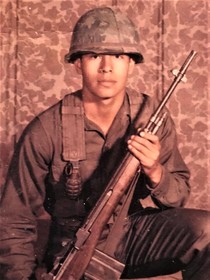 Noah Ledford Jr., 71, of the Birdtown Community in Cherokee, went home to be with the Lord on Friday, March 15, 2019 after a short-term illness.  He was a resident of Tsali Care Center.
He liked working on hot rods.  Noah served in the United States Army during the Vietnam War, the screaming eagles.
He is survived by two brothers, Lloyd Leslie Ledford and Daniel Lee Ledford; three sisters, Vera Ann George, Betty Jane Cucumber, and Golinda Ledford; and many nieces and nephews also survive.
Noah was preceded in death by his parents, Noah Ledford Sr. and Geneva Teesateskie Ledford; three brothers, Jake Allen Ledford, Charley Ledford, and John Richard Ledford; four sisters, Ruth Helen Long, Annette Marie Brown, Polly Marie Ledford, and Virginia Lee Blythe; one niece, Rhonda Jean Cucumber; and one nephew, Ray Ledford.
Funeral services were held on Tuesday, March 19 at the Bethabara Baptist Church.  Noah was laid to rest at the Ledford Family Cemetery. Pallbearers were Fred George, Steven Teesateskie, Mernie Taylor, We-la-lah Sampson, Raul Padron, and Daniel Ledford.
Long House Funeral Home assisted the Ledford family.