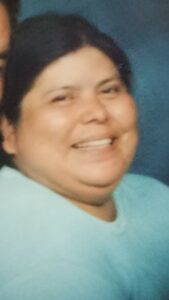 Nancy Jane Driver, 61, of the Big Cove Community, went home to be with the Lord, Tuesday, March 19, 2019. She was a member of Rock Springs Baptist Church. A native of Cherokee, she was the daughter of the late Jim and Ina Driver. In addition to her parents, she was also preceded in death by siblings, Jim Driver, West Driver, John Ed Driver, Ollie Sequoyah, and Elisie Locust.
She is survived by her children, Eddie (Christine), James (Alicia), Marlena, and Melonie Bradley; grandchildren, Jay Bradley, Ethan Jackson, Demetryus Bradley, Tierney, Emily, Raymond, Malla, Kennica, Jameson, Dalton, Ami, James Jr., and Ana Bradley, and Harold Bubby, Elliott, and Ella Smith; one great grandbaby on the way; brothers, James (Clara), William (Kim), Frank (Diane), and Jerry (Jen); sisters, Melinda Mayhan, Betty Morales (Jose); many nieces, nephews, great nieces and nephews, and great great nieces and nephews. She was also very blessed to have a lot of family at Rock Springs Baptist Church.
Funeral Services will be held 2 p.m. Thursday, March 21 at Rock Springs Baptist Church. Revs. Greg Morgan, Keith Carson, and James (Bo) Parris will officiate with burial at Driver Cemetery.
Nancy will be taken back to the Church at 4 p.m. Wednesday, March 20 by Crisp Funeral Home to await the hour of service.
Pallbearers will be Family and friends of the family.