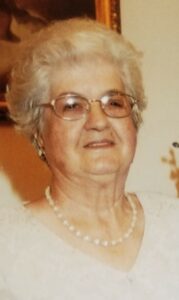 Mary Green Ward, 88, known to most as Mamaw Ward, entered into the presence of her Lord, at Mission Hospital, Sunday, March 10, 2019. A lifelong resident of Jackson county, she was an avid gardener and homemaker and loved bingo in her later years. She was preceded in death by her husband David Ward, and daughter, Barbara Gail Carnes.
Left to cherish her memory, a son, John David (Amy) Ward; three daughters, Wanda (Leonard) Dills, Geraldean (Delbert) Webb, JoAnn (Steve) Austin; son-in-law, Cance Carnes; sister-in-law, Mytrle Green, 10 grandchildren; and 17 great-grandchildren.
A funeral service will be held Wednesday, March 13 at Hyatts Chapel Baptist Church at 3 p.m. with Reverend Eugene Ridley officiating.  Burial will be at Ward Cemetery. The family will receive friends from 1 p.m. until 3 p.m. prior to the service.  Pallbearers are: Jason Webb, Josh Carnes, Blake Ward, Ricky King, John Hill, Justin Hunt, Brent Stewart, and Josh Bryson.
In lieu of flowers, make donations to Hyatts Chapel Baptist Church, PO Box 632, Whittier, NC 28789.
Western Carolina Funeral and Cremation Service is assisting the family.