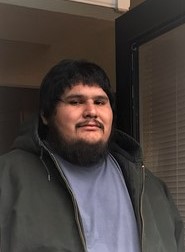 Michael Montelongo, age 23, of Cherokee, passed away unexpectedly on Thursday, March 7, 2019 at his home.
Michael is the son of Cleto Montelongo and Rebecca Watty Montelongo. Michael was a life-long member of Rock Springs Baptist Church.
Along with his parents, Michael is survived by his sisters, Kyleigh and Bekka Montelongo; his fiancé, Abigail Long; grandparents, Samuel Watty and Percy Lopez; aunts and uncles, Tina Cruz, Angie Montelongo, Wetha Montelongo, Mayta Montelongo, Yona Montelongo, Elaina Montelongo, Mato Montelongo, Rudy Lopez, Regina Watty, Dennis Watty, Samuel Watty, and Charles Watty; and his nephews, Samuel Lomas, Aeson Lomas, and Cassius Ross.
Michael was preceded in death by his aunts, Anna Watty and Mary Montelongo; his grandmother, Elsie Watty; and his grandfather, Anacleto Montelongo.
A visitation will be held on Monday, March 11 from 5 p.m. at Straight Fork Baptist church. A funeral service will be held on Tuesday, March 12 at 1 p.m. Pastor Charles Ray Ball will officiate.
The pall bearers will be as follows: Tavi Rivera, Jamison Oocumma, Ike Long, Raymond Taylor, Joseph Lomas, Kirsh Bird, Raymond Montelongo, Rudy Lopez, and Dyland Thompson.
Long House Funeral Home is assisting the Montelongo family with the arrangements.