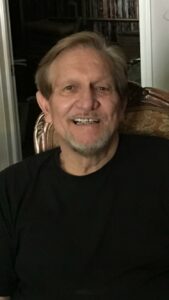 Norman Eugene Haigler, 74, was born March 29, 1944 in Cherokee and has been a resident of D'Iberville, Miss. since 1989.  He passed away Saturday, Dec. 22, 2018. 
He was preceded in death by his parents, Don and Cora Haigler; brothers, Robert, Ed, and Bill Haigler; sisters, Elaine, Carol and Betty Haigler; and two grandchildren, Joshua and Meloney Haigler. 
Norman is survived by his wife, Pam Watts Haigler of D'Iberville, Miss.; siblings, Frank Haigler of Lincoln, Calif., Lou Salter of Milton, Fla., Tommy (Rosemarie) Haigler and Ronnie Haigler of Bryson City, and Larry (Melba) Haigler of Cherokee; son, Daniel (Dawn) Haigler of Clarksville, Tenn.; daughters, Elena (Chuck) Burnham of Colorado Springs, Colo., Kristina Haigler of Cherokee; step-daughter, Amy Bourgeois of D'Iberville, Miss.; 12 grandchildren, Jeremy and Angela Crossley, Bryan and Samantha Collins, Kristopher and Zachery Johnson, Meghan, Sherilyn and Jason Haigler, Alexandria Zapata and Kameron and Brandon Bourgeois; two great grandchildren, Joshua and Josiah Haigler; and all of his close friends. 
Norman's family would like to express their gratitude to the staff at Merit Health Hospital for their support, care and love they showed during his stay. 
Funeral services were held on Thursday, Dec. 27 at Long House Funeral Home.  Pastor James "Bo" Parris officiated.  Burial followed at the Birdtown Cemetery with military honors provided by the Steve Youngdeer American Legion Post 143.