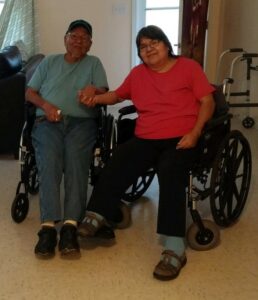 Elsie Marie Watty, 66, of the Big Cove Community in Cherokee, passed away Wednesday, Dec. 26, 2018 at the Cherokee Indian Hospital. 
She is survived by her children Michael Watty, Martha Watty, Matt Watty, and Marc Watty; grandchildren, Daliah, Kobe, Ethan, Adayah, Josiah, Jaymian, Makenah, Leland, Jayvian, and Little Bear; great grandchildren, Serenity, Josyah, Aliyana, and Emmaline; two brothers, David Owl and Gene Owl; sisters, Patricia Welch (husband Charles), Lou Thompson, and Willie Thompson (Wes); special sister, Roni Seawright; and also survived by Amanda Thompson and Mildred Queen. 
Marie was preceded in death by her husband, Joseph Stephen Watty; parents, Lawrence Thompson and Lillian Junaluska Thompson; three brothers, John Quincy Owl, Thomas J. Owl, and Robert Owl; and one sister, Lorraine Thompson. 
Funeral services were held on Friday, Dec. 28 at Long House Funeral Home.  Pastor James "Bo" Parris officiated.  Burial followed at the Watty family cemetery in the Big Cove Community.  Pallbearers were among family and friends.