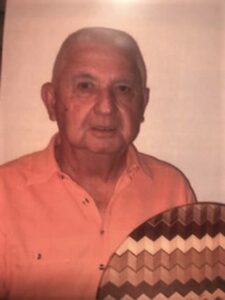 Kenneth "Gudger" Smith, 83, of Whittier, passed away Monday, Dec. 17, 2018 at Harris Regional Hospital in Sylva after an extended illness.
Gudger was a member of the Cherokee Baptist Church.
He is survived by his wife, Beatrice H. Smith; two children, Kenni Lynn Brooks (husband Steve) of Sylva, and Kyle Lee Smith (wife Phyllis) of Wagener, SC; four grandchildren; two great grandchildren; brothers, Ned Stamper and Ray Stamper; sisters, Sandy Davis, Louise Cabe, Jane Owle, Geraldina Stamper, Edith Stamper Queen, and Sue Stamper Rattler.
Gudger was preceded in death by his mother, Charlotte Smith; one son, Kelly Smith; and brothers, Dugan Cabe and Babe Cabe.
Visitation will be held on Wednesday, Dec. 19 from 5:30 p.m. until 8 p.m. at the Cherokee Baptist Church.  Funeral services will be held on Thursday, Dec. 20 at 2 p.m. at the Cherokee Baptist Church.  Pastors Percy Cunningham and James "Bo" Parris will officiate.  Burial will follow at the Thomas Memorial Cemetery in Whittier.  Pallbearers will be Jeff Marcom, Terry Allison, Robert Lambert, Charlie Hartline, Brian Brooks, and Ned Stamper.
Long House Funeral Home is assisting the Smith family.