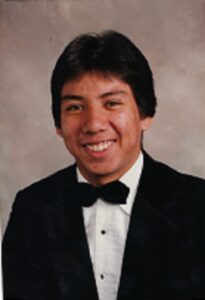 Jonathan Nathaniel Toineeta, 48, of Cherokee, passed away Monday, Dec. 17, 2018 at the Cherokee Indian Hospital after a brief illness.
Jonathan was a hard-working man.  Any job he applied himself to, he gave 110 percent and more.  He enjoyed riding his motorcycle and his sense of humor was unmatched.
He is survived by his mother, Betty Toineeta; two children, Victoria Toineeta and Jordan Toineeta, both of Cherokee; grandchildren, Jesse John Taylor, Bishop Boyd Taylor, and Hayden Arch; brothers, Jesse Toineeta (wife Monika) and Bruce A. Toineeta (wife Tonya); sisters, Rose Shell and Cheryl Shell; special aunts, Gail Parker and Hazel Shell; niece, Kendall Toineeta; nephews, Jesse R. Toineeta and Anthony Toineeta; great nephew, Jesse Easton Toineeta; friend, Marina Wahnetah; and numerous extended family also survive.
Jonathan was preceded in death by his father, Jesse Toineeta; paternal grandparents, Howard and Tiny Toineeta; and maternal grandparents, Boyd and Mary Shell.
Visitation will be held on Wednesday, Dec. 19 from 12 noon until 2 p.m. at Long House Funeral Home with funeral services to follow at 2 p.m.  Rev. Randy Watkins will officiate.  Burial will follow at the Shell Cemetery in the Yellowhill Community.  Pallbearers will be James Toineeta, George Toineeta, Samuel Abraham Toineeta, James Plummer, Jonas Plummer, and Graham Medford.