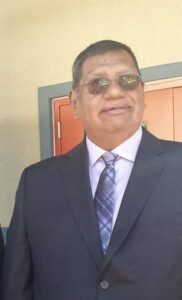 Abraham Wachacha, 61, passed away peacefully surrounded by his family Saturday, Dec. 15, 2018.
He was the son of the late Rhiley Wachacha and Lucinda Axe Wachacha. He was also preceded in death by his niece, Maggie Lynn Wachacha; siblings, JD Wachacha, Emily Wachacha Reed, Catherine Wachacha Long; and his grandparents, Jarrett and Maggie Axe Wachacha "Beloved Woman".
Abraham served for 18 years on Tribal Council and served as vice chairman. He was an avid Chicago Cubs and Buffalo Bills fan. He was a member of Zion Hill Baptist Church.
He was a graduate of Robbinsville High School class of 1976.
He is survived by the mother of his children, Renee Gonzales; three sons, Adam Wachacha and wife Heather, Eugene Wachacha both of Robbinsville, Damien Wachacha of Murphy; 10 grandchildren, Zane, Sierra, Xander and Xamuel Wachacha, Bently Lambert, Jacey Underwood, Zarah Wachacha of Robbinsville, Zirryiah, Zavyian and Zueri Cox-Wachacha of Murphy; one great grandchild, Jonathan Axe Hayes Wachacha; two brothers, Mike Wachacha of Robbinsville, JC Wachacha and wife Jeanne of Cherokee; one sister, Ellen Wachacha Bird (Beloved Woman) of Robbinsville; and many other family and friends.
Funeral services will be held at 12 p.m. Friday at the Snowbird Community Complex. Preachers Henry Ethridge, Michael Rattler, Noah Crowe and James (Bo) Parris will officiate with burial in the Wachacha Cemetery.
The family will receive friends starting at 6 p.m. Thursday at Zion Hill Baptist Church.