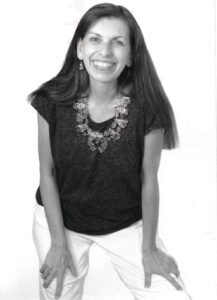 Debra Shan Goshorn, 61, passed on Dec. 1, 2018, surrounded by her loving family and friends after a valiant fight against cancer. While her time on Earth ended too soon, Shan lived a prolific and abundant personal and professional life. As an Eastern Band Cherokee Indian artist, her multi-media artwork brought light to human rights issues, particularly those that affect Native American people today.
She is survived by her mother, Edna Saunooke Goshorn of Cherokee; her husband of 33 years, Tom Pendergraft of Tulsa, Okla.; four daughters, Natalie Pendergraft of Tulsa (Erika Hardin), Carolee Pendergraft of Tulsa, Sommer Pendergraft of Charleston, SC, Neosha Pendergraft of Tulsa; one son, Loma Pendergraft of Seattle, Wash.; two sisters, Diane Goshorn and Donna Goshorn Beck, both of Cherokee; nephew, Brandon Beck of Sylva; special cousin, David Goshorn of Arnold, Md.; and three grandchildren.
She was preceded in death by her father, John C. Goshorn Jr.; maternal grandparents, Anderson and Stacey Powell Saunooke; and paternal grandfather, John C. Goshorn Sr.
Shan was born in Baltimore, Md. and grew up in nearby Bel Air, Md. After graduating from Bel Air High School, she attended Cleveland Institute of Art, and the Atlanta College of Art. She moved to Tulsa, Okla. in 1981, where she lived the remainder of her life. Shan utilized many mediums in her career including hand-tinted photography, paint and metalwork, however she became most widely known for her basketry. Woven in traditional and non-traditional Cherokee style, her baskets were constructed with contemporary materials such as images, documents, treaties and maps to tell the story of Native people. Shan has achieved international impact with her work. Her archival materials were requested and donated to the Smithsonian's National Museum of the American Indian for future scholarly research. She was also identified by the Museum of the Cherokee Indians as the 14th living Cherokee able to create baskets using the difficult double-weave technique. Her work belongs to over twenty museum collections worldwide. Presently, her show "Resisting the Mission" is on exhibition at the Dickinson College in Carlisle, PA.
A memorial service will be held on Saturday, Dec. 29 at the Gilcrease Museum in Tulsa at 1 p.m.
A local memorial will be held on Saturday, Jan. 5 from 2 p.m. to 5 p.m. at the Ken Blankenship room of the Museum of the Cherokee Indians.
Donations in honor of Shan may be made to the Institute of American Arts (www.iaia.edu) and to Wing It (www.tulsaaudubon.org/wingit).
I tsv go hv ya…until we all see you again.