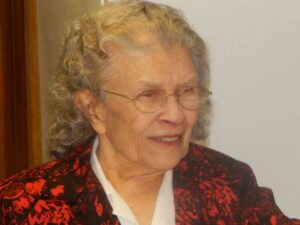 Laverne Huskey Land, age 85, was welcomed into the presence of her beloved Lord and Savior on Monday, Dec. 3, 2018, at the Cherokee Indian Hospital surrounded by her loving family.
Having grown up in the Yellowhill Community, she graduated from the Cherokee Indian School.  During her earlier years she worked for the Cherokees, then, as a young entrepreneur, she managed the old Cherokee Bus Station with her late husband, Ruble.  Later, she invested in the Shaklee Corporation and became a lifelong distributor.  While working as a teacher at the Qualla Boundary Headstart, she obtained a B.S. degree and retired as the nutritionist from the program.
Laverne was the daughter of the late Birdie (Hill) and Bruce Huskey; the granddaughter of the late Callie and Wallace Huskey and the late Luzene (Sequoyah) and Blaine Hill Sr.  She was previously the wife of Ruble Dunlap.  Her brothers, Stanley, Henry, and Mickey preceded her in death.
She is survived by her husband of 36 years, Wayne Land; her sisters, Loretta (Sylvester) Crowe, and Arlene (Fred) Cochran; her brother, Robert Bruce Huskey; many nieces, nephews, and cousins; and one special life-long friend, Tracy Owl.
Monday afternoon graveside services were conducted by her pastor, Tim James at the Huskey Cemetery on Rattlesnake Mountain with her family, her Sequoyah Church family and close friends attending.
Long House Funeral Home assisted the Land family.