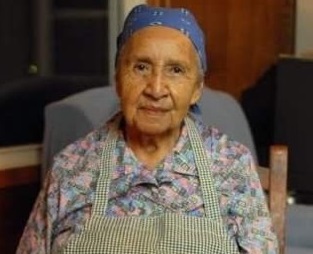 God called in his time and grace on Saturday, Nov. 24 for Amanda Sequoyah Swimmer, 97 years old. Born on Oct. 27, 1921 to Molly Davis Sequoyah and Runningwolfe Sequoyah, she was preceded in death by her husband, Luke Swimmer; one daughter, Mary Ellen Wolfe; and sons, Johnny, Ronald, Herbert, and McKinley Swimmer.
Amanda is survived by daughters, Marilyn Swimmer, Merina Swimmer, Flora Bradley and husband, H.J.; two sons, Virgil and Don Swimmer; 31 grandchildren; great grandchildren to the fourth generation; her extended family as loyal friends and mentors, Ray Kinsland, Chief Patrick Lambert and Aaron Bradley; and Like daughters, Ila Coleman and June Smith.
Amanda, a renowned potter, shared her creative abilities which allowed a time-honored tradition to survive. Recognized as an outstanding individual contribution to the preservation of the history and culture of Southern Appalachia, she was awarded the following honors:
1994 – The NC Folk Heritage Award
May 25, 2005 – The Honorary Degree of Doctor of Humane Letters form UNC-Asheville
25, 2009 – The Mountain Heritage Award from Western Carolina University
2003 – Senior Miss Cherokee
February 2018 – Named Beloved Woman of the Eastern Band of Cherokee.
But, mostly she'll be remembered as a homemaker, a grandma to all and as an advocate for the safety of School Children and Community.
Funeral services will be held 1 p.m. Thursday, Nov. 29 at Yellowhill Baptist Church. Revs. James (Bo) Parris and Forman Bradley will officiate with burial at Swimmer/ Sequoyah Family Cemetery.
Amanda will be taken back to Yellowhill Baptist Church at 5 p.m. Wednesday by Crisp Funeral Home to await the service hour.
Pallbearers will be Amanda's Grandsons.