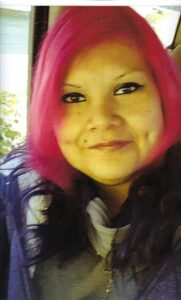 Nicolasa Lucille Librado Anastasio, 35, of Cherokee, passed away Wednesday, Nov. 14, 2018 at her residence.
She is survived by her husband, Emiliano Anastasio; her parents, Arnulfo Luis Librado Sr. and Frances Owle Librado; her children, James Isaiah Browning, Emilio Javier Librado, and Ethan Cisneros; one brother, Simon Librado II; aunts and uncles, Nicolasa, Felix, Thomas, and Paul Librado, Phillip Owle Jr., and Melinda Owle; friends, Marcelina Armachain and Donna Armachian; and the Torres family.
Nicolasa was preceded in death by one brother, Arnulfo Luis Librado Jr.; paternal grandparents, Josefina Marcelino and Jose Isidro Anastasio; maternal grandparents, Phillip Owle Sr. and Geneva Queen Owle; and great grandparents, Abraham Queen and Nannie Calonaheskie Queen.
Funeral services will be held on Monday, Nov. 19 at 2pm at Long House Funeral  Home.  Pastors Dan Conseen and James "Bo" Parris will officiate.  Burial will follow at the Librado Family Cemetery.  Pallbearers will be among family and friends.