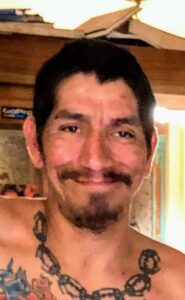 Charles "Chino" Ray West, 39, of Cherokee, passed away unexpectedly on Sunday, Nov. 11, 2018 at Mission Hospital in Asheville.
Chino was a master carpenter and roofer.  He was one of the most genuine, kind, absolutely hilarious and coolest people to be around.  He was such a beautiful person that always had a smile for everyone he was around.  There was never a dull moment in his presence.  He filled so many lives with happiness and laughter.  He could turn your grey skies blue with just a smile or a joke, Chino is truly one of a kind.  He's a ray of sunshine and a rainbow after a storm.  He will be incredibly missed and forever loved, gone but never forgotten.
He is survived by his wife, Leigh Ann Owle West; his children, Ayianna West and Philip West; brothers, Dondi Crowe, Levi West, Kiah West, and Newt Jackson; sisters, Heather Gloyne, Kim Crowe, Hilda Crowe, Shoni Medina, Karol Anne Sherlin, and Stefanie Arch; aunts and uncles, Mama Hatt, Boomer West, Mama Hutt, Panda Jackson, T-Bear Jackson, J.J. Jackson, and Tracy West; uncle Jesse Welch, uncle Bo Parris, aunt Eloise James of California; mother and father-in-law, Patricia and Clifton M. Owle; special niece, Aisha L. Owle; many nieces and nephews, and cousin Bruce Martin Jr. "Cricket".
Chino was preceded in death by his father, Robert "Jose'" M. West; mother, Lawanda D. Jackson; Brother, Robert "Paco" M. West Jr.; paternal grandfather, Jim West; step-grandfather, Merv "Poppy" Jackson; and cousin, Roman "Booda" West.
Visitation will be held on Thursday, Nov. 15 beginning at 5 p.m. at the Big Cove Baptist Church where the body will remain until the hour of service on Friday, Nov. 16 at 2 p.m. at the Big Cove Baptist Church.  Pastor James "Bo" Parris will officiate.  Burial will follow at the Davis Cemetery.  Pallbearers will be Tracy West, Jimmie Gloyne, Newt Jackson, and Willie Troy.
Long House Funeral Home is assisting the West family.