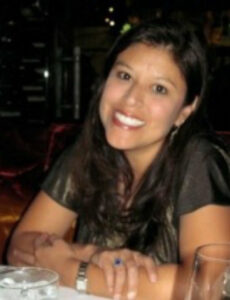 Julia Leigh Bushyhead (aka Juls, Judo, JuJu) of Alexandria, Va., died in her residence of cardiac arrest on Thursday, Nov. 1, 2018. Her light went out but her shine lingers on and sparks in the hearts of all who knew and loved her.
She is survived by Jake Ryan, her sweet French Bulldog (who will live with his grandma); mother, Yvonne F. Bushyhead of Cherokee; two sisters she adored, Beverly R. Bushyhead of St. Paul, Minn. and Denise B. Curlee of Chapel Hill; her nieces and nephews, Kyle Bushyhead, Matthew Curlee, Loren and Hana Bushyhead, and Ty Curlee.
Important people are her best friend, Leigh Hathaway Roy from Broken Arrow, Okla. and the late Bridget Steele, who undoubtedly was waiting with open arms on the other side.
Julia loved her classmates and popular life at Tahlequah High School in Tahlequah, Okla. As was Julia she then focused on her future 123 percent!
She earned a Communications degree at American University in Washington, DC and immediately landed her dream job at Conus Communications in Washington. Julia then mastered another love…marathon running. First, she finished the Marine Corps Marathon. When she learned she was only four minutes from qualifying for the Boston, she put 123 percent into that goal. Her second marathon was Chicago where she qualified to run the Boston. She surprised herself by finishing the Boston with an awesome time and got a tattoo to prove it!
Julia loved everything about living in Mount Vernon and the DC life! Her happiest days were working at Apple as a Briefing Coordinator.  Her loves were traveling, running, tennis, she sent the best gifts and thoughtful cards, and you…her friends meant everything.
Julia would hate us to mourn, but instead would want us to…run, play tennis, do something we always wanted but never had the courage. Do it for Julia! And, from those of us closest to Julia – please take addiction seriously.